Premium products on display include the VR One backpack, Aegis Ti gaming PC, a selection of VR ready laptops, and a multitude of gaming motherboards & graphics cards at booth #2300 from November 4th to 6th in Australia.

[Taipei, Taiwan] PAX AUS 2016 is kicking off today in Melbourne! PAX (Penny Arcade Expo), hosted by GameSpot, is a huge yearly festival for all gamers to gather around and to celebrate gaming culture, it connects the world's leading game publishers and manufacturers with their enthusiastic fans while providing an inclusive community environment. This year, for the first time ever, PAX features an entire dedicated VR freeplay area, where attendees will have the opportunity to experience the latest VR (Virtual Reality) games and technology.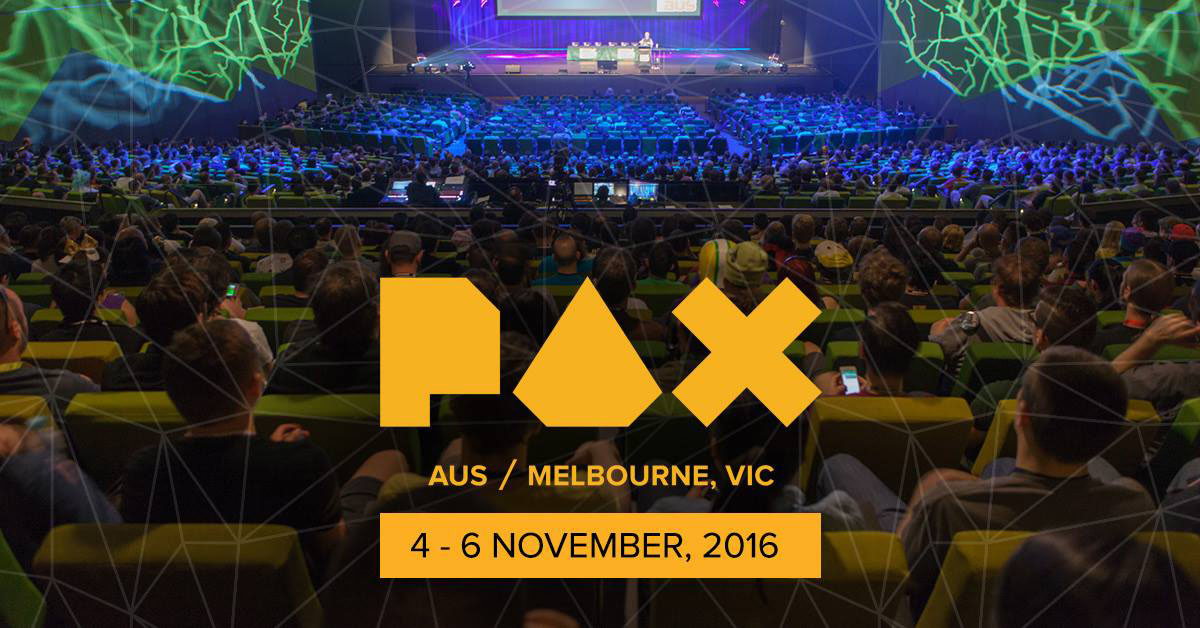 As the leading brand of the gaming industry, MSI is always ahead of others in meeting gamers' needs by introducing the most up-to-date solutions for extreme gamers. From the beginning, MSI has built deep relationships with the HTC VIVE team and is determined to deliver and promote the best VR experience across PC and mobile platforms. For the massive three-day show in PAX, MSI will announce the world's first-ever VR backpack, the revolutionary "VR One"! This new concept has been proposed widely in the recent year, however, none but MSI was able to make the actual product happen with the great style, the lightest weight, and the highest performance.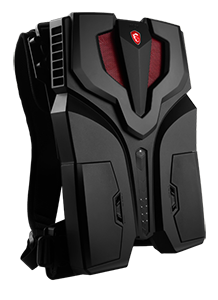 PAX AUS 2016 Grand Debut: MSI VR One, the Lightest Futuristic VR Backpack
MSI VR One is the world's lightest and thinnest backpack PC system. It is sure to have massive impacts on the global VR market by removing the current VR experience limitations of having to stay close to the PC and the monitor due to cables connected. MSI VR One weighs a mere 3.6kg. It comes with 2 battery packs and is able to deliver 1.5 hours full speed gameplay. Powered by an overclocked CPU and GeForce® GTX 10 series graphics card, MSI VR One is able to deliver full throttle gaming performance whilst keeping noise levels under a quiet 40dBA.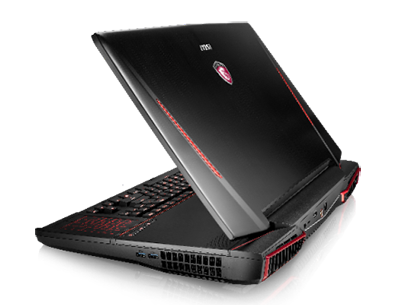 MSI GT8
3VR/ GT73VR Titan Pro: Premium Gaming Powerhouse
The GT83VR/ GT73VR Titan features Sound by Dynaudio speakers to deliver a powerful audio experience. The sound system of the GT83VR/ GT73VR Titan series let users play any games, music or movies and delivers deep immersion into your own world with amazing power and precision.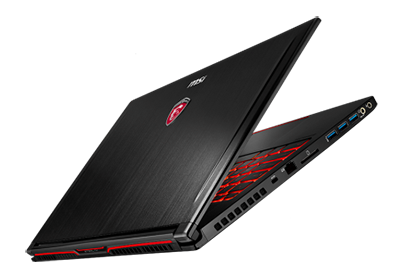 MSI GS63VR Stealth Pro: The World's Thinnest 15.6" Gaming Laptop
Weighing just 1.9kg, MSI GS63VR Stealth Pro is the COMPUTEX 2016 Best Choice Golden Award winner. It is the world's lightest gaming laptop, packing a powerful cooling system, extreme computing performance and outstanding gaming features into a 17.7mm ultra slim chassis. The whole laptop is even slimmer than some Ultrabooks, but a lot more powerful than many of the high performance notebooks.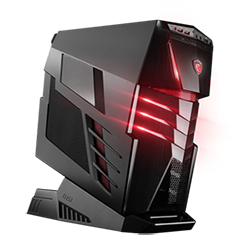 MSI Aegis Ti: Supreme Gaming Power

MSI Aegis Ti. This is the ultimate expression of gaming power and performance for gamers who want only the best. The Aegis Ti, uses a powerful unlocked Intel® Core™ K-series processor to give gamers ultimate overclocking abilities. On top of that, Aegis Ti houses MSI GeForce® GTX 1080 graphics card. For even more power, the Aegis Ti is 2 way SLI Ready meaning you can double the GPU power for maximum FPS at the highest settings for the best possible graphical performance. Besides all extreme hardware, Aegis Ti features a breathtaking case design that is unmatched and easy to upgrade thanks to its unique interior layout. Coupled with its own Silent Storm Cooling 3 Pro solution, the system is kept cool and quiet simultanoeusly with a top-notch gaming experience.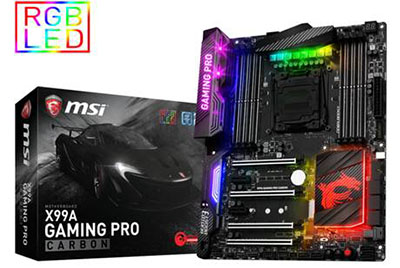 MSI X99A Gaming Pro Carbon Motherboard
Equipped with the latest technologies including USB 3.1 with Type-C plus case front panel support, Turbo U.2 and M.2 ports and Audio boost 3.0 to help you to win whatever game you play, The X99A Gaming Pro Carbon also comes with MSI's Mystic Light RGB lighting feature, supporting up to 16.8 million colors and a range of effects to style your rig the way you choose.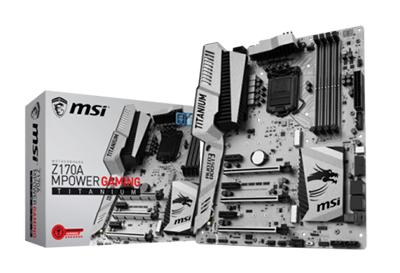 MSI Z170A MPOWER Gaming Titanium Motherboard
MSI's Titanium family of motherboards have been receiving rave reviews thanks to their combination of features, stability and of course, amazing good looks. With X99 and Z170 models available, MSI's Titanium range also brings fantastic overclocking a look that will make your rig stand out from the crowd.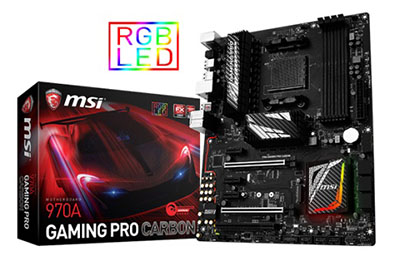 MSI 970A Gaming Pro Carbon Motherboard
AMD fans will not be disappointed with the new 970A Gaming Pro Carbon motherboard. As the first AMD based MSI Carbon model, this motherboard has been built from the ground up with a new design on the inside and outside. It offers Mystic Light RGB lights, onboard M.2, Audio Boost 3, Gaming LAN and a plethora of other gameplay enhancing features.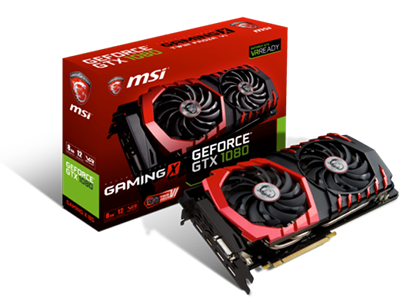 MSI GeForce® GTX 10 Series Gaming Graphics Card
MSI will showcase the latest Gaming Graphics Cards equipped with its class leading Twin Frozr VI Thermal design. These cards build on the enormous legacy of MSI's #1 position in Gaming graphics. When kept cool with MSI's exclusive TORX 2.0 fans and Zero Frozr technologies, Twin Frozr VI equipped cards provide new standards for low-noise and low-temperature Gaming graphics.
MSI GeForce® GTX 1080 Seahawk EK X Graphics Card
Water-cooling enthusiasts are invited to inspect our new GTX 1080 Seahawk EK X. This gorgeous card combines MSI's top-notch graphics card engineering with the dominant water cooling expertise by EK. The supreme liquid cooling performance guarantees a stable, silent Gaming experience.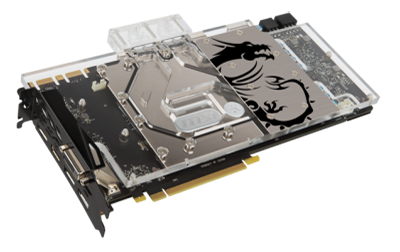 During PAX, MSI will showcase full custom water-cooled systems with the greatest MSI Gaming hardware built by the most talented case modders. MSI will also bring on you in on "The eSports Experience" with pro-style tournaments. Moreover, MSI will offer special prizes, such as the most powerful MSI GS63 Gaming laptop, MSI Gaming gear, MSI Gaming bag, up to $50 USD steam code, and so on to the lucky winners selected through a lucky draw. Just stop by MSI booth to find out more!
To schedule a meeting with MSI representatives during PAX, please contact PR representative Ivy Hsu (ivyfyhsu@msi.com).

MSI at PAX AUS 2016 Info
Venue: Melbourne Convention and Exhibition Centre (MCEC)
Booth: 2300
Date: Friday 4th to Sunday 6th November, 2016
Time: 10:00am to 6:00pm
MSI GAMING Products: https://www.msi.com/
MSI Facebook: https://www.facebook.com/MSIHQFANCLUB
MSI Facebook Australia: https://www.facebook.com/msiaus/?fref=ts
MSI Facebook Australia & New Zealand: https://www.facebook.com/MSIANZNotebook/
See you all in Melbourne!