MSI X99A Gaming Pro Carbon Motherboard
Equipped with the latest technologies including USB 3.1 with Type-C plus case front panel support, Turbo U.2 and M.2 ports and Audio boost 3.0 to help you to win whatever game you play, The X99A Gaming Pro Carbon also comes with MSI's Mystic Light RGB lighting feature, supporting up to 16.8 million colors and a range of effects to style your rig the way you choose.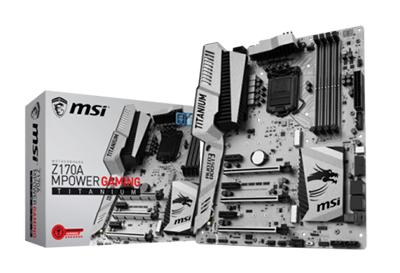 MSI Z170A MPOWER Gaming Titanium Motherboard
MSI's Titanium family of motherboards have been receiving rave reviews thanks to their combination of features, stability and of course, amazing good looks. With X99 and Z170 models available, MSI's Titanium range also brings fantastic overclocking a look that will make your rig stand out from the crowd.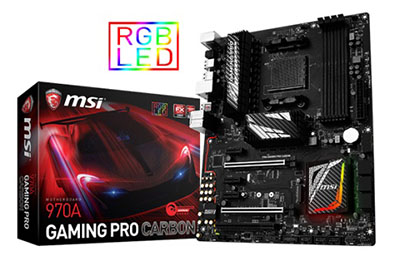 MSI 970A Gaming Pro Carbon Motherboard
AMD fans will not be disappointed with the new 970A Gaming Pro Carbon motherboard. As the first AMD based MSI Carbon model, this motherboard has been built from the ground up with a new design on the inside and outside. It offers Mystic Light RGB lights, onboard M.2, Audio Boost 3, Gaming LAN and a plethora of other gameplay enhancing features.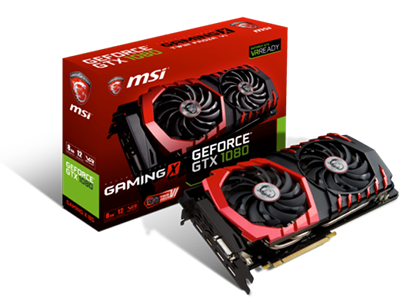 MSI GeForce® GTX 10 Series Gaming Graphics Card
MSI will showcase the latest Gaming Graphics Cards equipped with its class leading Twin Frozr VI Thermal design. These cards build on the enormous legacy of MSI's #1 position in Gaming graphics. When kept cool with MSI's exclusive TORX 2.0 fans and Zero Frozr technologies, Twin Frozr VI equipped cards provide new standards for low-noise and low-temperature Gaming graphics.
MSI GeForce® GTX 1080 Seahawk EK X Graphics Card
Water-cooling enthusiasts are invited to inspect our new GTX 1080 Seahawk EK X. This gorgeous card combines MSI's top-notch graphics card engineering with the dominant water cooling expertise by EK. The supreme liquid cooling performance guarantees a stable, silent Gaming experience.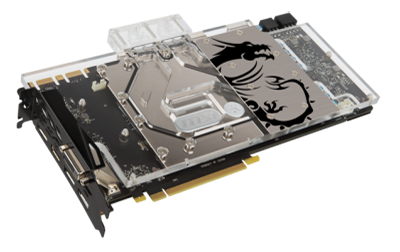 During PAX, MSI will showcase full custom water-cooled systems with the greatest MSI Gaming hardware built by the most talented case modders. MSI will also bring on you in on "The eSports Experience" with pro-style tournaments. Moreover, MSI will offer special prizes, such as the most powerful MSI GS63 Gaming laptop, MSI Gaming gear, MSI Gaming bag, up to $50 USD steam code, and so on to the lucky winners selected through a lucky draw. Just stop by MSI booth to find out more!
To schedule a meeting with MSI representatives during PAX, please contact PR representative Ivy Hsu (ivyfyhsu@msi.com).

MSI at PAX AUS 2016 Info
Venue: Melbourne Convention and Exhibition Centre (MCEC)
Booth: 2300
Date: Friday 4th to Sunday 6th November, 2016
Time: 10:00am to 6:00pm
MSI GAMING Products: https://www.msi.com/
MSI Facebook: https://www.facebook.com/MSIHQFANCLUB
MSI Facebook Australia: https://www.facebook.com/msiaus/?fref=ts
MSI Facebook Australia & New Zealand: https://www.facebook.com/MSIANZNotebook/
See you all in Melbourne!