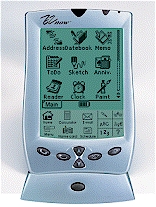 MSI™ today announced our new PDA product line to meet the needs of mobile consumers and provide them with new tools to easily access and manage information. The announcements highlight MSI™'s vision for mobility, which is based on the collective ability of appliances, wired and wireless, to work together using an Internet infrastructure to deliver personalized services, wherever a user may be.
Following the "Information mobilized" concept, MSI™ has focused on products that are useful, simple and convenient, and today's announcements are excellent examples of how we help people be inventive in business and in life. Featuring a stylish, lightweight design, MS- 2010 PDA provides easy and convenient access to you to store and retrieve addresses and phone numbers, maintain a calendar, create to-do lists and notes, e-mail, calendars, contacts and a full suite of personal information management applications.
Now there's nothing holding you back from reading e-mail, playing digital audio and managing your schedule anywhere, anytime. If you want to simplify your life and still have plenty of room to grow, take a closer look at the MS-2010 PDA from MSI™- a brand name that can win your trust.
Main Features Highlights:

Small and light, the MS-2010 delivers the power, speed, and flexibility you need while on the go. The MS-2010 weights only 120g and its dimension is 119(H) * 80(W) * 16(D)mm only.

The MS-2010 PDA is powered by Motolora 33MHz Dragonbell processor and equipped with 2MB of built-in memory. The MS-2010 delivers full functionality at an affordable price for on-the-go users and let you run the applications you need, as well as send and receive e-mail and use the Internet1 to do business away from your office.

By using a RS232 or USB cable, users can synchronize and update the files on MS-2010 PDA with their desktop or notebook computer, such as your calendar, address book, and to-do lists.

For more information about our new MS-2010 PDA, please visit our website:
* Information in this publication is subject to change without notice. MSI shall not be liable for technical, pictorial or editorial errors or omissions contained herein.