[Taipei, Taiwan] Poznań Game Arena 2017 opens its door today, and runs from October 6 until October 8 in Poznań, Poland. At Hall 7A Booth no.7, MSI, the premier gaming brand again takes part at the event to bring you 3 days of game emotions!
Excitement is in the air. A cosplayer show, eSports stars, tournaments and thousands of actvities are what await you at the biggest Polish computer games and multimedia fair. On top of that, Patryk "Rojo" Rojewski, a gamer and one of the most popular Polish YouTube vloggers, will also make an appearance during the weekend. Amid a wash of camera flashes, MSI stands out from the crowds. "MSI keeps raising the bar in PC gaming. Visitors will be seeing the latest cutting-edge tech, futuristic gaming rigs as well as stellar gaming experience," noted Sam Chern, MSI Global Marketing Director.
MSI's eye-catching gaming lineups, including gaming laptops, desktops, graphics cards and peripherals are just part of the show. MSI Booth is fully-packed with live competitions: Dragon hunt contest, CS:GO and PlayerUnknown's Battlegrounds (PUBG) tournaments that are to set visitor's pulse racing. Be sure to visit us at Hall 7A Booth no.7 to experience the true gaming!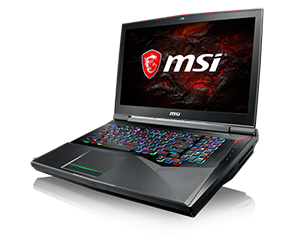 MSI GT75VR: New Design with RGB Mechanical Keyboard, New Era of Ultimate Gaming
The top-tier GT75VR sports Intel® CoreTM i7 7820HK CPU overclockable to over 4GHz with either GeForce® GTX 1080 or dual graphics of GTX 1070 SLI. Indulging the concept of near-desktop performing laptop on the go. In addition, this powerhouse features SteelSeries rapid mechanical keyboard with customizable Per-Key RGB backlighting, an ergonomic arrow-shaped palm rest. Moreover, GT75VR laptops sports amazing features and specs like Killer Multi-GIG, High-Res Audio, Nahimic VR, 120Hz display [optional], and Cooler Boost Titan.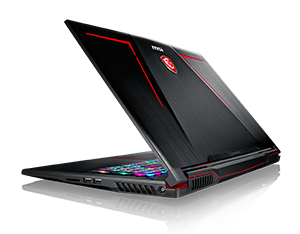 MSI GE63/73VR Raider: The Game Changer We've Long Been Waiting for
Inspired by exotic sports cars, the brand new GE63VR/73VR Raider has been given a new facelift. With more angular trims and an aggressive tone, the GE series is a game changer to enthusiastic gaming. Available in 15- and 17-inch, GE63/73VR Raider takes advantage of GeForce® GTX 1070 with full power. This new weapon boasts the fastest (Remove HDR wording) 120Hz/3ms of 94%NTSC panel for spectacular visual experience; along with many other features such as the Per-Key RGB keyboard backlighting, intensive Cooler Boost 5, revolutionary Dynaudio Giant Speakers and Hi-Res Audio and so forth.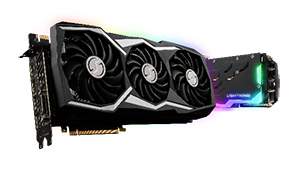 MSI GeForce® GTX 1080 Ti Lightning: The Ultimate PC Gaming Platform
Built to be perfect, the new MSI GeForce® GTX 1080 Ti LIGHTNING combines cutting edge new technology with proven features such as TRI-FROZR design with TORX 2.0 Fans, SuperPipe technology and Military Class 4 components. The GeForce® GTX 1080 Ti LIGHTNING is nothing short of an engineering masterpiece.


Step into a New World with New MSI Z370 Motherboards and Intel 8th Gen 6-Core Processors
MSI, the world leading gaming motherboard manufacturer, together with the launch of Intel's 8th Gen processors, has prepared new motherboards based on the new Z370 platform. With all models fully supporting Intel 6-core CPUs, the next generation MSI motherboards are found in the famous three GAMING segments: Enthusiast GAMING, Performance GAMING and Arsenal GAMING to serve perfectly to any type of gamer around the world. For designers, content creators and workstation users, MSI has prepared new PRO Series models. To top things off, making sure anyone can squeeze maximum performance out of the new 6-core processors, Z370 GODLIKE GAMING has been created as the most extreme Z370 motherboard available. For gamers who love styles and personality, Z370 GAMING PRO CARBON AC once gain comes with a unique and powerful design using CARBON elements and offers unlimited customization options by using MSI Mystic Light. MSI motherboards are packed with unique features such as DDR4 Boost, M.2 Shield v2 and Lightning USB to cater to any PC Enthusiast, Gamers or Professional users.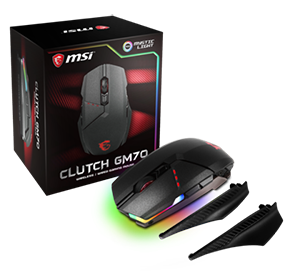 MSI Clutch GM70 / GM60 - Get a Solid Grip on the Game
With a strong focus on ergonomic design, the Clutch 70 and Clutch GM60 offer two different pairs of side grips and an extra top cover to allow gamers to find their most comfortable fit. This makes all the difference when you're playing for hours on end and allows gamers to stay at the top of their game. The top cover and side grips can be swapped with ease thanks to a magnetic design. A dragon-scale pattern on the sides provides additional grip, ensuring complete control of the mouse.
MSI GH70 - Get into the Game
The Immerse GH70 is a gorgeous gaming headset that features driver unit with Hi-Res certification for incredibly detailed sound quality and virtual 7.1 audio for precise positioning. Fitting in seamlessly with the latest MSI high-end gaming products, Mystic Light RGB delivers brilliant lighting effects to let gamers light up the battlefield in the style of their choice.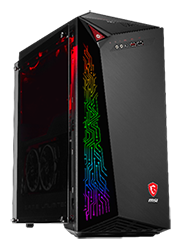 World's first Gaming Desktop with Intel's 8th Generation Processor, MSI Infinite X
MSI, world's leading manufacturer of true gaming hardware is proudly expanding its Infinite Gaming Desktop series with the first Gaming Desktop featuring the Intel 8th generation processors( Intel® Core™ i7-8700K) and MSI Z370 chipset, the MSI Infinite X. The Infinite X is built for gamers with a never-ending desire to game and want endless possibilities to game the way they want. This desktop is delivering the best gaming performance by equipping MSI's renowned graphics cards to give gamers just that little bit more in-game advantage. Together with the newest unlocked processor generation from Intel it will give the speed and performance gamers require, even pushing the limits with the ability to overclock. To keep a system with all this power cool, the Infinite X uses MSI's exclusive Silent Storm Cooling 3 thermal design, making its cooling efficiency unmatched and as quiet as an assassin.



MSI Optix Series: Stay Ahead of the Competition
The MSI Optix series gaming monitor is equipped with a 144Hz refresh rate and 1ms response time curved VA panel which has the most benefit for fast moving games such as first person shooters, fighters, racing, real-time strategy, and sports. These types of games require very fast and precise movements, so the ultra-high refresh rate and fast response time of this gaming monitor will put you ahead of your competition.






MSI @ Poznań Game Arena 2017
Venue: Poznań Congress Center
Booth: Hall 7A Booth no.7
Date: October 6 - 8, 2017
Opening hours:
- October 6, Friday: 10.00 to 18.00 – PGA VIP DAY
- October 7, Saturday: 9.00 to 20.00
- October 8, Sunday: 9.00 to 18.00
MSI GAMING:
https://www.msi.com/
MSI Facebook:
https://www.facebook.com/MSIHQFANCLUB
MSI Twitter:
https://twitter.com/msitweets
MSI YouTube:
https://www.youtube.com/user/MSIGamingGlobal
MSI Instagram :
https://www.instagram.com/msi_global/