[Jakarta, Indonesia] As a leading company in high-end gaming notebook PC, MSI (Micro-Star International Co., Ltd.) shows serious intent to develop the Indonesian gaming world with the opening of two official store for the first time in Indonesia. Located at Ratu Plaza Mall by inviting more than 50 channel partners and media, MSI officially opened 2 MSI Store that respectively located in Mangga Dua Mall and Ratu Plaza Mall. MSI Store Mangga Dua previously had a soft opening last August.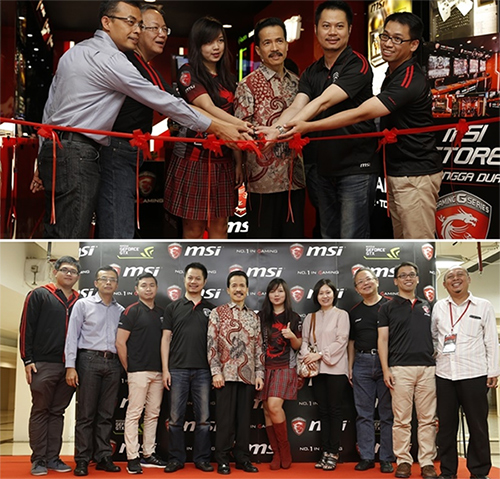 Cutting Ribbon Ceremony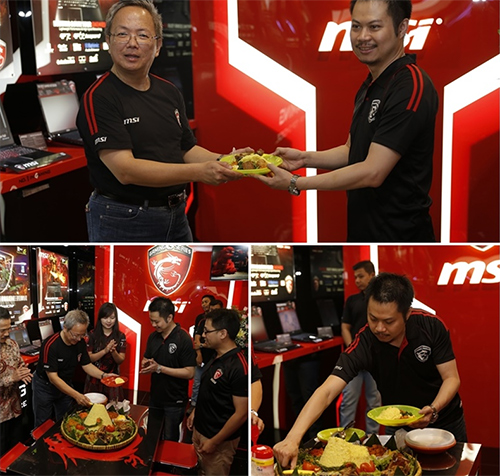 Cone Shape Rice (Nasi Tumpeng) - Traditional symbolic of celebrate important event (Grand Opening)
With this opening event, MSI once again want to prove its position to be the number one manufacturer of gaming notebooks in Indonesia. MSI want to reach more and more gamers who want to have a high-performance gaming notebook with a stylish design. And with the opening of this store, they can experience directly how amazing is the gaming experience using MSI Notebook that is designed specifically for it. The purpose of this opening is not other than MSI want to improve its service to customers. By opening more and more official MSI Store in Indonesia, gamers will also have a place to gather up because in the near future there will be a lot of events and exciting programs in every MSI Store.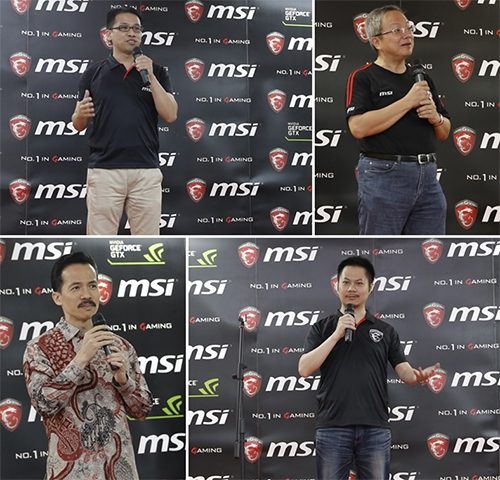 Greeting Speech from MSI Executives and Partners
(Mr. Green Lin - MSI, Mr. Jo - IT Galeri, Mr. Soegiharto Santoso - Apkomindo, Mr. Jerry Lu - MSI)
"In the future, we want MSI Store not only used as a place to buy MSI Notebook, but we want to make MSI Store as the place for gamers to share their experiences, a place to build community, or even become a place for big gaming tournament". Said Green Lin as the Marketing Manager of MSI Notebook. MSI Indonesia Dragon Army is the gamers community build by MSI to gather the MSI Notebook user. With the opening of the two stores, MSI hope the Indonesian Dragon Army will be able to grow up and beat the Dragon Army in the other countries around the world.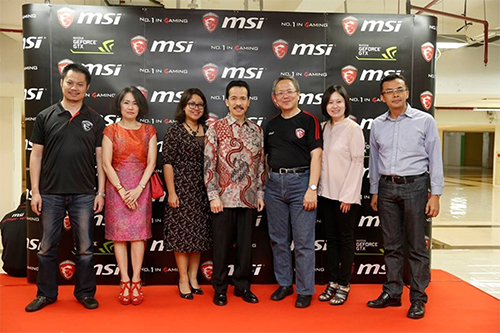 VIP Guests (Jerry Lu - MSI, Lucy Valentina - Tixpro, Rini.F Hasbi - Intel,
Soegiharto Santoso - Apkomindo, Jo Susanto - IT Galeri,
Herjati Harianto - IT Galeri, Alvend Desnecmen - Microsoft)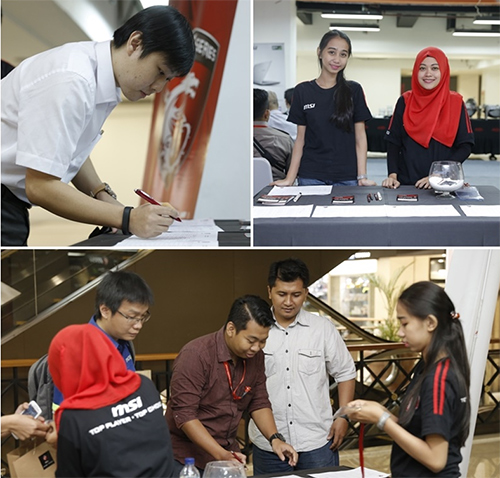 Registration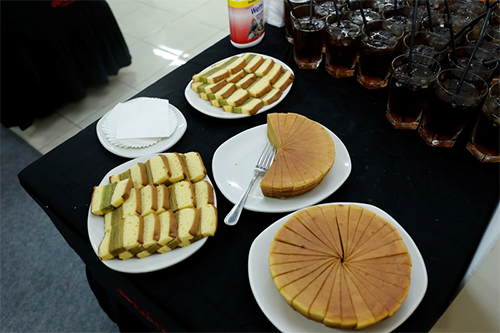 Snacks & Beverages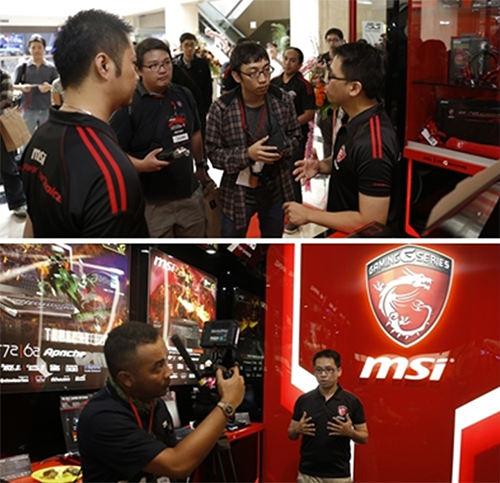 Media Interview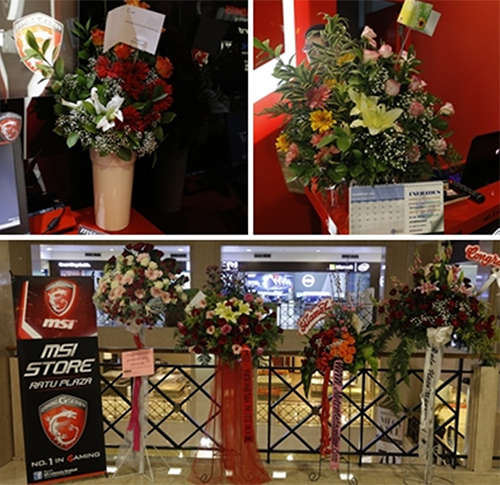 Flower Banquet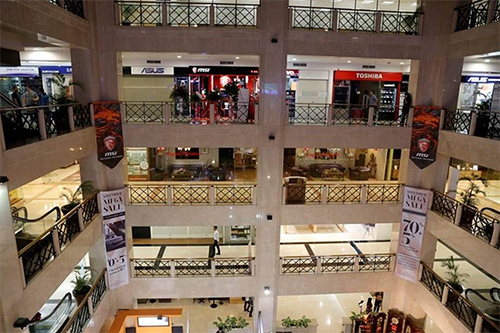 MSI Flag for Grand Opening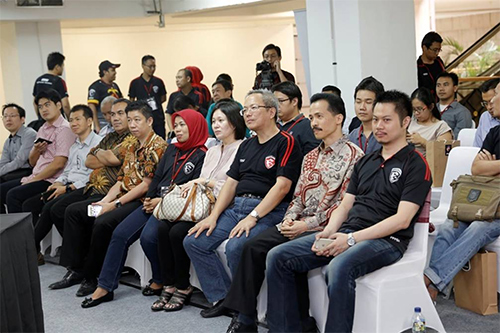 Press Conference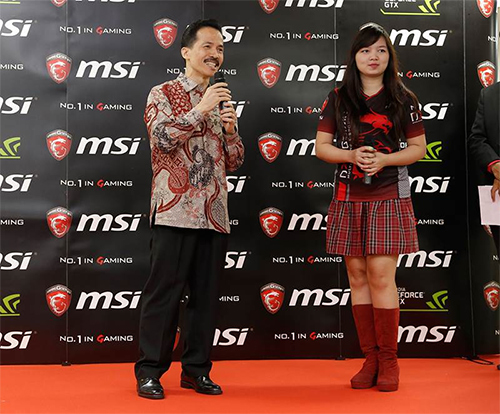 Ir. Soegiharto Santoso with Nixia talking about gaming industry in Indonesia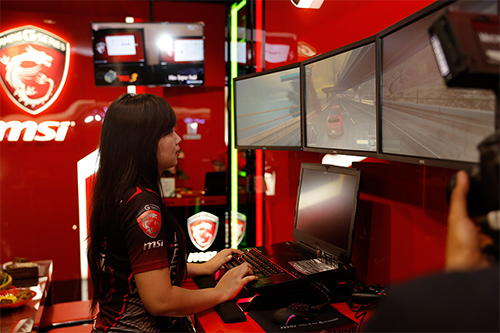 MSI Store Gaming Experience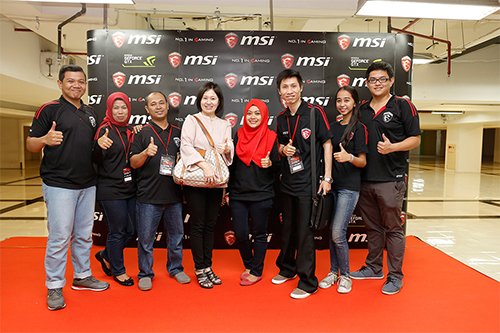 Find MSI Stores
- MSI Store Mangga Dua – Mangga Dua Mall, lantai 3 No. 8A, Jln. Gunung Sahari No. 1, Sawah Besar, Kota, Jakarta Pusat
- MSI Store Ratu Plaza – Ratu Plaza Mall, lantai 3 No. 6, Jln. Jendral Sudirman Kav. 9, Jakarta
Media Coverage :
After the Event :
Nixiagamer.com : Ramaikan Industri Game Indonesia, MSI Resmikan 2 Official Store
http://nixiagamer.com/ramaikan-industri-gaming-indonesia-msi-resmikan-2-official-store.html
GameQQ : MSI Store Ratu Plaza Grand Opening
http://www.gameqq.net/news/11240-msi-store-ratu-plaza-grand-opening
Trenologi/DailySocial : Buka Dua Gerai, MSI Tunjukkan Keseriusan Pengembangan Ekosistem Gaming di Indonesia
http://dailysocial.id/post/buka-dua-gerai-msi-tunjukkan-keseriusan-pengembangan-ekosistem-gaming-di-indonesia/
Inigame : Setelah Mangga Dua, MSI Store kini hadir di Ratu Plaza
http://www.iniga.me/msi-store-ratu-plaza/
Inigame : MSI Store Indonesia Grand Opening Ratu Plaza
https://www.youtube.com/watch?v=oz4cSD1MNT0
Pemmz : Grand Opening MSI Store Pertama di Indonesia
http://www.pemmzchannel.com/2015/11/11/grand-opening-msi-store-pertama-di-indonesia/
HWM : MSI Buka Dua MSI Store Pertama di Indonesia
http://www.hardwarezone.co.id/tech-news-msi-buka-dua-msi-store-pertama-di-indonesia
JagatReview : MSI Resmikan Dua MSI Store di Jakarta
http://www.jagatreview.com/2015/11/msi-resmikan-dua-toko-msi-store-di-indonesia/
KotakGame : Serius Mengembangkan Industri Game Tanah Air, MSI Resmikan 2 Toko Terbarunya
http://www.kotakgame.com/berita/detail/54706/Serius-Mengembangkan-Industri-Game-Tanah-Air-MSI-Resmikan-2-Toko-Terbarunya
KotakGame : Komentar Ketua Umum Apkomindo dan Nixia di Peresmian MSI Store Indonesia
http://www.kotakgame.com/berita/detail/54747/Komentar-Ketua-Umum-APKOMINDO-dan-Nixia-di-Peresmian-MSI-Store-Indonesia
RumahBerita : Resmikan Dua Gerai, MSI Ingin "Garap" Komunitas Gaming di Indonesia
http://www.rumahberita.com/teknologi/resmikan-dua-gerai-msi-ingin-garap-komunitas-gaming-di-indonesia.html
IDMods : MSI Buka Dua MSI Store Pertama di Indonesia
http://idmods.com/forum/index.php/topic,321.0.html
During the Event :
MSI Indonesia Notebook Fanpage :
Grand Opening Ceremony Album
https://www.facebook.com/media/set/?set=a.832591873528695.1073741855.268271373294084