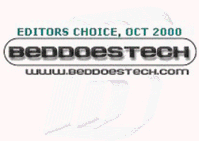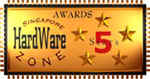 K7T Pro2 is the latest Socket A motherboard built on a VIA® KT133 chipset from MSI™ for AMD™ Duron™/Athlon™ CPUs up to 1.2GHz. The outstanding expandability of K7T Pro2 has a universal AGP slot to support AGP 2X/4X video card. The CPU multiple adjustment is on the BIOS, overclocking users must find it very convenient. Therefore, K7T Pro2 receives immediate awards right after the introduction to the market, including the 5-star Award from HardwareZone.com, Singapore in November and the Editor's Choice from Beddoestech.com, Australia in October.
Editors of both sites explained: the stability and overclocking capacity of K7T Pro2 are impressive. The features of the K7T Pro 2 include Live BIOS™, an extra-value software tool developed by MSI™ to enable automatic BIOS version inspection and update by linking to the site under Windows environments; Smart D-LED™ is a hardware error diagnostic tool equipped with 4 LEDs and voice system to inform user of any hardware error with a friendly interface. The overall efficiency is outstanding with complete expandability satisfy all user needs. Together with the superb stability in overclocking, it is a product of extra bargain.
Aiming to produce products of high quality and high efficiency, products from MSI™ have received several Product of Excellence awards in Taiwan with the ISO-9001 and ISO-14001 traditions and the efforts of all R&D staff. Internationally, MSI™ products are winners of numerous media awards and readers' choice. It all tells one story: the efforts and achievements of MSI™ have been recognized worldwide.
Source:
http://www.hardwarezone.com, Singapore: November 2000
http://www.beddoes.tech.com, Australia, October 2000