Change the game with Tobii eye tracking. Enjoy gameplay in entire new ways
Taipei, Taiwan – As the No.1 in Gaming brand in the gaming industry, MSI is always ahead of others in meeting users' needs by introducing the most up-to-date solutions and offering the most complete gaming features for extreme gamers. This time, MSI cooperates with Tobii to introduce the GT72S Dominator Pro G Tobii gaming notebook with integrated eye tracking technology to satisfy gamers' appetite for extreme gaming experiences. The notebook will be bundled with Tom Clancy's The Division, which will include eye tracking features as part of its gameplay. Moreover, game codes with a market value of USD40 are bundled with MSI GT72S Tobii so that users may redeem selected eye tracking games on Steam. Get free game codes here:
http://www.tobii.com/giveaways/
.
Eye tracking technology is the next evolution in PC user interfaces and is considered one of the biggest trends to watch in 2016. Tobii, the global leader in eye tracking, has developed eye tracking technology for over 15 years. MSI is the first in the gaming industry to embrace this technology in a gaming notebook. The eye tracking technology, developed by Tobii, grants gamers a more realistic and immersive interaction when playing video games* on the GT72S Dominator Pro G Tobii. With Tobii's technology in place, gamers can now harness the natural movement of their eyes to aim, shoot and drive with their eyes. Playing video games on GT72S Dominator Pro G Tobii becomes more intuitive than ever.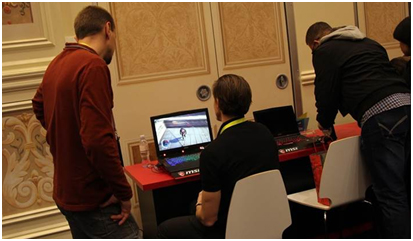 One user is experiencing the GT72S Tobii eye tracking technology at CES 2016
Furthermore, Tobii's eye tracking technology allows the GT72S Dominator Pro G Tobii to support Windows Hello. Now users are able to log into Windows 10 with their faces more naturally and provide a a more secure technology environment in daily life.
Besides all these, GT72S Donimator Pro G Tobii is powered by 6th Gen. Intel Core i7 processors, Nvidia GeFoce GTX 980/980M/970M graphics card and has several amazing gaming features. Nvidia G-SYNC display technology guarantees sharper image and fluid and responsive gameplay experience. Super Raid 4 runs dual M.2 PCI-E Gen 3.0 x4 SSDs in RAID0, outputting extreme read speeds over 3300MB/s. Headset AMP with ESS SABRE HiFi Audio DAC supports high-definition lossless music, delivering premium audio quality. Killer DoubleShot Pro with Killer Shield stabilizes digital data transmission, therefore, ensures a smoother online gaming experience.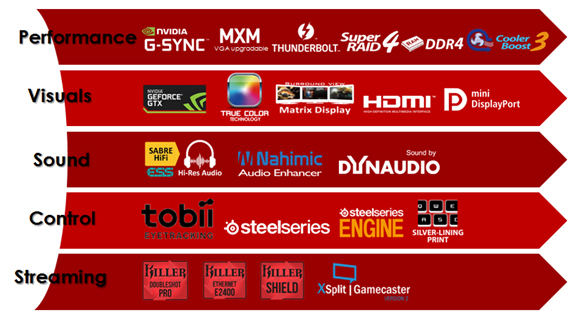 MSI Exclusive / World First Gaming Features of GT72S Dominator Pro G Tobii

MSI Exclusive / World First Gaming Features of GT72S Dominator Pro G Tobii


MSI will impress the gaming industry once again after the iconic GT80 Titan SLI, the world first gaming notebook to equip a mechanical keyboard on board. GT72S Dominator Pro G Tobii shall open a new chapter in the gaming industry. It is ready sprinkle some "magic dust" and leads you to entire new ways to play video games.

*The new GT72S Tobii supports major game titles and will be bundled with the highly anticipated Tom Clancy's The Division. For a list of Tobii supported games, go to http://www.tobii.com/apps/.



MSI Exclusive / World's First Technologies

Performance



Enthusiast GeForce GTX 980/980M/970M graphics
The GeForce GTX 980/980M/970M takes advantage of NVIDIA Maxwell architecture to deliver unrivaled performance, advanced graphics technologies. Now you can take on the most visually challenging games with fast, smooth gameplay at ultra-settings for higher resolution and DirectX 12 games.





Cooler Boost 3 – Keep Calm for Higher Performance
MSI exclusive Cooler Boost 3 technology creates dual thermal modules internally by allocating dedicated heat pipes for GPU and CPU. One click on the fan boost button, a total of 6 heat pipes and dual fans actively and effectively push heat out of the system, making the cooling design of GT72 the highest level of its kind.




Super RAID 4 Storage – Load Games in Seconds
Get in the game before everyone else with Super RAID 4, MSI's fastest RAID 0 storage configuration. Combining dual M.2 PCI-E Gen 3.0 x4 SSD's utilizing NVMe technology, harness the full performance potential of the Gen 3.0 SSD through the optimization of the hardware and software outputting extreme read speeds over 3300MB/s. Load games works in seconds!




LATEST ARCHITECTURE DDR4-2133 MEMORY SUPPORT
Get the best possible performance out of your notebook with support of the advanced DDR4-2133 memory, achieving over 29GB/s in reading speed and 32GB/s in writing. With over 30% faster performance than previous generations DDR3-1600, DDR4-2133 is the new laptop standard to take your extreme gaming experience to the next level.

Thunderbolt 3 Certified
The latest and fastest interface Thunderbolt 3 supports up to 40Gbps data transfer rates and dual 4K displays with daisy chain capabilities. Its USB 3.1 ultra speed interface supports up to 5V and 3A current output for charging.





Control



Embedded Tobii Eye tracking technology
With world leading eye tracking technology from Tobii in place, gamers can now harness the natural movement of their eyes to aim, shoot and drive with their eyes. Playing video games becomes more intuitive than ever.





The Real Deal: A Keyboard All Gamers Desire For
Every hardware detail of this keyboard is calculated and especially designed for professional gamers' needs. Better responsive and tactile feedback, optimum WASD zone and support of multi-key inputs are all for gamers to gain full command over gaming missions.




Customize Your Games Style Keys
SteelSeries Engine is an app that transforms your keyboard in to a lethal gaming weapon. Here, you can customize each individual key, create different macros, manage keyboard lighting and customize the keyboard to your liking.




Audio


ESS SABRE HiFi Audio DAC – Evolve Details You Hear
Push the limits of your audio peripherals and hear the difference with the SABRE Audio DAC. It supports 24bit/192kbps sampling rate and drives high quality headset from 16ohm to 600ohm which gives up to 122dBA DNR highest sound detail, unmatched by PC, Mac or mobile devices DAC. Discover new details that you've been missing or maintain the upper-hand in competitive FPS matches where every bit of sound counts.




Nahimic Audio Enhancer
Directional sound effects and crystal clear dialogue during a mission are two critical elements. Now, you get to enjoy a whole new audio experience and dominate your gaming battlefield with this true military technology application.




Sound by DYNAUDIO Speakers
True speakers designed by the world's leading speaker manufacturer Dynaudio are embedded onto MSI gaming notebooks. Dynaudio delivers an authentic sound experience by boosting power amplitude 50% more than the previous generation, meaning a volume increase over 10dBA than others.



Visual



True Color Technology – Always Ahead of Your Enemies
Vision and sound are the most important two factors in this field. You now get to see clearer than your enemies to always get one step ahead of the rest.

*Besides Gaming Mode, True Color Technology also offers prefect color accuracy for 5 more scenarios.




Streaming




Killer DoubleShot Pro– Protecting Your Ping
Protect and prioritize networking traffic while preventing lag spikes so you can game without fear and play at your best. Select programs you want your network to prioritize to ensure maximum bandwidth and track your speeds with the easy-to-use Killer Networking Manager.






Killer Shield – Smoother Gameplay
One more protection for smoother uploads and download processes. Less pin rate floating reassures more fluent gameplays.







XSplit Gamecaster –Show off Your Skills to the World
Record and edit your gameplay videos with this app and broadcast it live to Twitch, YouTube, UStream and etc.. It's simple, easy to use and ideal for sharing your gameplay with friends, family or the world - or for capturing those perfect gaming moments, just for the heck of it.

You get to explore and enjoy becoming a true professional streamer for a whole year for FREE."