Introduction
Most inventions and innovations are derived from necessity. One such form is the optical combo drive. Back when DVD movies were just introduced, the only way for PC users to enjoy cinematic quality DVD movie titles was to buy a dedicated DVD-ROM drive on top of the CD-RW drive they might already own. This inevitably means you have to include two separate optical drives to achieve a multimedia PC goal and this equals to additional costs. As you would expect, the combo drive evolution is generated by this increasing need to own two drives when it's technically possible to combine the two into one unit. The obvious benefits of this merger would be the ability to free up one IDE port for other storage devices and to allow Small-Form Factor PC users to have both CD-writing and DVD playing capabilities, as these casings normally have just a single 5.25-inch drive bay. Additionally, these forms of PCs are catching on with consumers with their slim, small dimensions and whisper quiet operation.
The focus of this review is the X48 combo drive from MSI. The company have been producing optical drives for quite some time now, MSI has come up with a few new features of their own such as the ABS (Anti-Bumping system), SoftBurn, Mini-Form, HyperGuard and SuperLink for their latest generation of optical drives. So far, their current CD drives have been proving many sceptics wrong by flexing their design and engineering prowess - issuing a clear statement that they are no pushovers. Well, over here in our camp, we prefer to view the results before drawing any incredulous conclusions.
First Impression and Bundled Stuffs
True to their current optical drives design called the "mini-form"; the X48 is indeed "mini" and is also definitely one of the shortest optical drives in the market now.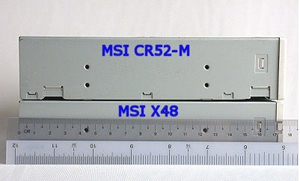 An inclusion from MSI for the X48 is the ActivePanel. Instead of the dull beige front faceplate that many of us have come to live with, you now have the option to change the colors of the X48 faceplate to suit your taste. Even though only two snap-on faceplates were given in the package, you'll be happy to know that up to a maximum of four different color combinations can be achieved if you mix and match the two faceplates.
Other stuffs bundled with the X48 is an audio cable, four mounting screws, Nero Burning Rom software and Cyberlink's PowerDVD 5.
Conclusion
Designed from the ground up by MSI, the X48 in our lab today performed admirably. It was able to read all the different media hurled at it without the need for us to do any re-tests. If you ask us, a media-friendly drive is an important point to consider when buying an optical drive. With its "mini-form", installation of the drive into most casings should be a breeze be it a normal desktop size or a small-form factor casing. For their current in-house designed optical drives, features such as SoftBurn will be very much appreciated by those who want a quiet drive and from our experience with the unit, vibration from the unit is very tamed and minimal; indicating that MSI's ABS (Anti-Bumping System) is working efficiently.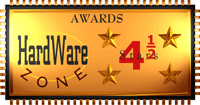 Another plus point of the drive is its Mount Rainier technology. This feature is a must have if you intend to use your CD-RW disc as an everyday storage replacement for your lowly floppy disks. A unique selling point of the X48 is the ability to mix and match the drive's faceplate to make the drive standout from the rest, especially when you're considering an optical drive to match the color of your casing. Looking at the results gathered so far, the X48 not only looks good, but it also has great performance under the hood as well. Frankly speaking, not many optical drives can pull this off. At the end of the day, our de-liberation on the X48 is a firm 4.5 stars out of 5.
Source from the Hardwarezone.com
(http://www.hardwarezone.com/articles/view.php?cid=29&id=954)