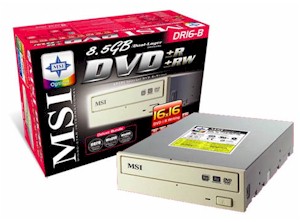 In such an advanced era, MSI has generally kept pace with the demands for developing cutting-edge products. As users face a labyrinth of choices everyday, MSI is driven to provide the best possible solution for its consumers. Today, MSI proudly introduces its own 16x16 DVD Dual-Layer writer - DR16-B, which provides hyper-speed DVD recording in about 6 minutes! It's absolutely great for backing up heaps of information and data archiving in a flash...
The MSI DR16-B offers impressive features and powerful specifications; it allows user to work at either 16x DVD+R or 16x DVD-R hyper-speed recording. It also supports DVD+RW/-RW rewriting speed at 4x as well as DVD-ROM reading speed at 16x. Likewise, the DR16-B's Buffer Underrun Error Prevention technology can help reduce the recording failures caused by insufficient data transit buffer, which ensures perfect data recording.
Along with DR16-B is one of MSI's unique features - Live Update™ 3, a viable application for updating the latest firmware through the Internet. The MSI Live Update™ 3 assures the drive media compatibility and enhances the drive performance and stability, keeping your DR16-B in its most favorable operating condition.
Also, the DR16-B writer has bundled popular applications such as Nero Express, DVD/VCD authoring and DVD/VCD playback software, users can wholly enjoy the benefit of high performance multimedia editing.