Cutting-edge MSI GAMING hardware ready to take the LAN Party by storm
[Taipei, Taiwan] With Asia's biggest LAN party WirForce 2017 drawing near, top gaming brand MSI is all geared up to rock the event with its latest, coolest gaming hardware. Stellar, game-changing MSI GAMING laptops, graphics cards, motherboards and desktops aside, MSI has set up a dedicated live streaming zone where famous live streamers host and bring the exciting event to the world. Better still, pro gamers from world famous MSI sponsored Flash Wolves will join MSI on Saturday, November 25, having fun with fans and offering Flash Wolves autographed MSI/Flash Wolves merchandise for charity auctions. Moreover, a rich arrary of exclusive giveaways are up for grabs for those who successfully accomplish the assigned mission within the time limit.
Top-Notch Gaming Rigs for LAN Party Enthusiasts
Thin and Beastly MSI GE63VR Gaming Laptop
MSI GE63VR Raider is a mighty gaming beast with ultimate power, revolutionary cooling design and amazing portability. The GE63VR packs the latest MSI Cooler Boost 5 thermal modules, adopting dual Whirlwind Blade fans with multiple heat pipes and well-endowed airflows to intensively and efficiently drive exhaust heat out of the system for optimal CPU and graphics performance.
The Per-Key RGB gaming keyboard by SteelSeries has ergonomically designed keys with 1.9mm of key travel for better responsive and tactile feedback, optimum WASD zone, anti-ghosting capability for up to 45 keys and mechanical-level shielding solution to ensure durability. A plethora of game enhancing features and elegant brushed aluminum chassis make MSI GE63VR an ideal fusion of aesthetics and performance.
Looking for next-gen gaming laptops? Special offers for WirForce attendees will be available throughout the event. Plus, those who order MSI gaming laptops on site will take home exclusive MSI Dragon Lucky giveaways. Hurry, limited quantities. Get yours while stocks last!


MSI GTX 1080 TI GAMING X TRIO Graphics Card with TRI-FROZR Thermal Design
MSI GTX 1080 TI GAMING X TRIO's TRI-FROZR Thermal Design features three award-winning TORX 2.0 Fans with Double Ball Bearings. TORX 2.0 Fan design generates 22% more air pressure for supremely silent performance in the heat of battle. Double Ball Bearings give the unique MSI TORX 2.0 Fans a strong and lasting core for years of smooth gaming. ZeroFrozr technology eliminates fan noise by stopping the fans in low-load situations. The latest iteration of Mystic Light RGB offers even more choices than before with the astonishing L-shaped light bar and symmetrical red dragon claw lights. The LED lights are divided into three zones, each of which can be respectively controlled to show variety and individuality.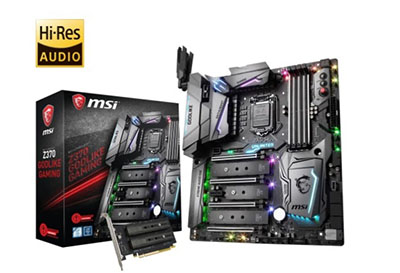 MSI Z370 GODLIKE GAMING, the World's 1st Wireless Extender Motherboard
MSI Z370 GODLIKE GAMING is the world's first Wireless Extender motherboard that features three Killer™ E2500 LAN and one Killer™ 1535 Wi-Fi AC extender for ultimate network traffic prioritization. With Killer™ xTend, users can use the onboard components as a network switch and access point in addition to the regular Killer™ features of packet and bandwidth prioritization.
For maximum storage, this motherboard packs three onboard Turbo M.2 with M.2 Shield V2, a Turbo U.2 connector and a PCI-E M.2 Xpander-Z add-on card to add another 2 Turbo M.2 slots for up to 5 M.2.
MSI Infinite X, World's 1st Gaming Desktop with 8th Gen Intel® Processor
The design of MSI Infinite X's case boasts elements of electric circuitry traces on the front side, which can be customized with RGB colors via MSI Mystic Light software. Infinite also features a side panel made of transparent tempered glass, giving Infinite a stylish look and allowing gamers to glance at the hardware inside.
Looking at the heart of this gaming beast, Infinite X tackles any challenging game by equipping the 8th gen Intel Core i7 processor and award-winning MSI GAMING graphics card to provide beyond game-worthy performance. To enhance its endurance during transportation and cooling efficiency while gaming, the GAMING graphics card is installed vertically. Coupled with MSI's exclusive Silent Storm Cooling 3 thermal design, Infinite's cooling efficiency is unmatched, making it as quiet as an assassin. Get ready for your next gaming adventure because with MSI Infinite, gaming never stops and the only challenge is to stay awake.
** Stay tuned for Infinite X's official launch on December 6!
Charity Auctions by MSI and Flash Wolves Aim to Spread Love
MSI sponsored Flash Wolves will be in attendance as well. On November 25, visitors to MSI's booth have the chance to interact and game with Flash Wolves' LOL pro gamers Maple and SwordArT. There will also be MSI and Flash Wolves merchandise autographed by Maple and SwordArT for charity auctions. All auction income goes to qualified charitable organizations to help those in need.
Live Streamers Wage Fierce Battles in Popular Games
Another highlight of the MSI booth is the dedicated live streaming zone. Several popular live streamers will be on site to bring the exciting event to the world while they fight tough, heart-racing battles in PlayerUnknown's Battlegrounds, League of Legends, Overwatch and Hearthstone. Make sure you stay tuned for our engaging streams on MSI Gaming (TW) Facebook and MSI GAMING ASIA Twitch! Plus, carrying out an assigned mission within the time limit will entitle you to special giveaways. Don't miss your chance to win our exclusive giveaways!
MSI @ WirForce 2017
Date: November 23 ~ 26, 2017
Venue: Expo Dome, Taipei Expo Park
MSI GAMING:
https://www.msi.com/
MSI Facebook:
https://www.facebook.com/MSITaiwan/
MSI GAMING ASIA Twitch:
https://www.twitch.tv/msigamingasia
MSI Twitter:
https://twitter.com/msitweets
MSI YouTube:
https://www.youtube.com/user/MSIGamingGlobal
MSI Instagram:
https://www.instagram.com/msi_global/