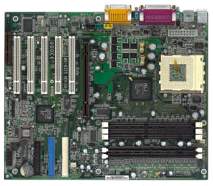 MSI™ today announced its new Socket A motherboard K7MG Pro featuring the M1647 north bridge and M1535 south bridge chipset newly from Acer Laboratories Inc.(ALi). The K7MG Pro conforms to the ATX form factor and provides the latest high performance features. Its cutting-edge design supports the latest AMD™ Athlon™ and Duron™ processors and is geared for performance PC users that require expandability and upgradeability. Expansion slots are available for 5x PCI, 1x CNR, and 1 AGP/ AGP Pro 4x Port. 2 DIMM and 3 DDR slots support up to 3GB of system memory, enabling higher bus speed, bandwidth and system performance. With support for features such as the Suspend to RAM/Disk, D-LED and MSI™'s famous T.O.P Tech™ III and PC Alert™ III hardware monitoring software, the K7MG Pro provides a complete solution for system manageability.
The K7MG Pro sets a new benchmark in PC performance and is optimized to take full advantage of the latest AMD processor technology. With a design rich in features and specifications, the K7MG Pro will surely be appraised by computer users. The major features of the K7MG Pro includes:
Supports Ultra ATA100
The Ultra ATA100 accelerates data transfer speed and provides excellent and faster connection for IDE devices.
Supports 266MHz Front Side Bus

Supports 3D PCI Audio; offers cost effective sound

D-LED™
D-LED™ has a combination of 4 LED light signals to represent 16 different troubleshooting functions during boot up, allowing users to find the cause of any possible failure quickly and easily.
STR (Suspend to RAM)
With STR function, system configuration data is saved onto the system memory when the system is set into suspend mode. The system memory is sustained with minimum electrical power to avoid data loss. When the system is reset back to full operation mode, the original configuration status is restored in just a few seconds.
PC 99 and PCI 2.2 Specification Compliant and Certified

For more information about our new K7MG Pro, please visit MSI™'s Website (http:// www.msi.com.tw)