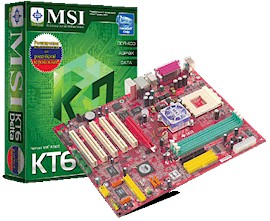 The KT6 Delta-FIS2R which utilizes the VT8237 Southbridge is the flagship KT600 motherboard from MSI™ and it's a huge board with most features and connectors well spaced out.
Three DIMM slots are available for a maximum RAM accommodation of 3GB, but MSI™ has put a note in the manual stating that the DDR400 memory support is only available on four of the six available memory banks. KT600 motherboards can only support a maximum of 2GB of DDR400 memory. We are not surprised at this limitation since this is getting to be the norm as memory speeds are being ramped up. The single channel memory controller has to tradeoff the number of memory banks it can access in favor of speed, signal strength and data reliability reasons. For DDR266 and DDR333 memory, the controller supports all six memory banks for a total of 3GB.
If you have read about MSI™'s CoreCell Technology on the MSI™ 865/875 Neo series of motherboards, the KT6 Delta-FIS2R would be good news to Athlon XP users since it is the only Socket-A motherboard from MSI™ that embraces this technology. Its primary features are:
BuzzFree: keeps system fan noise low, unless operating temperatures are high.
PowerPro: power throttling mechanism that cuts power consumption when system is idling and ramps the supply when more compute intensive tasks are performed.
LivePro: Due to the above two features, system components on the motherboard are likely to last longer in ideal cases.
Speedster: Provides advanced overclocking options and coupled with MSIˇŚs CoreCenter software, it allows easy overclocking via Windows operating environment.
More Features
The VIA VT8237 Southbridge natively supports two Serial-ATA drives on two ports. Furthermore, the VIA DriveStation Controller Suite has V-RAID which supports creation of RAID 0 and RAID 1 arrays on these SATA drives. Remember, this pair of SATA ports are linked directly to the Southbridge and do not ride on the slower PCI bus such as third-party devices.
Not far from it are two more SATA ports and an IDE ATA-133 connector that are controlled by an integrated Promise PDC20378 SATA / IDE ATA-133 RAID controller. This controller runs off the PCI bus but unlike the model PDC20376, this supports two IDE drives and is capable of RAID 0, RAID 1 and RAID 0+1 arrays. So if you have two fast IDE drives and want to increase performance and reliability of your data, RAID 0+1 could be the most ideal solution for you, but you will need to invest in two more SATA drives to be able to pull this off.
Fancy an external Firewire hard drive, networking via Firewire or transferring videos from DV-Cameras? No sweat when you have the KT6 Delta-FIS2R sporting a VIA VT6306 three port IEEE1394a controller and a bracket with two standard Firewire port and a mini-DV port.
There's probably enough storage, I/O features on this board that you wouldn' need to invest in those add-on cards anymore. If you do need to plug in any other peripheral cards, there are five full PCI slots. Those who are contented by a simple sound subsystem, an on-board CMI9739A, 6-channel surround sound codec takes care of those needs at no extra cost. On top of the rear I/O panel's Mic-in, Line-in and Line-out, MSI's S-Bracket has analog surround sound ports to accommodate a proper 5.1 speaker system. If you have or planning to invest on a higher-end computer speaker system, do try to get those that have S/PDIF inputs since the S-Bracket has S/PDIF outputs. This way, you can enjoy better sound quality as digital connections eliminate cable quality, noise and other such factors and preserves the original signal. Depending on the speaker system and component quality, perhaps the use of the speakerˇŚs on-board DAC could also be more beneficial than that within the audio codec chip. Of course those who demand high expectations can always drop in a PCI sound card of their choice.
Well, we have covered all of what the MSI™ KT6 Delta-FIS2R has to offer and it's time we take a peek into the BIOS for the overclocking options that we all desire:
FSB Settings: 100MHz to 280MHz (In 1MHz steps)
AGP/PCI Frequency: No
RAM Speed options: Auto, 266, 333, 400MHz DDR
CPU Voltage Settings: 1.350 to 1.850V (In 0.025V steps), 2.00, 2.15, 2.30V
DDR Voltage Settings: 2.55~3.10V (In 0.05V steps), 3.20, 3.25, 3.30V
AGP Voltage Settings: 1.55 ~2.10V (In 0.05V steps)
V-Link Voltage: Auto, 2.6, 2.7, 2.8V
Multiplier Selection: Yes
The available options look pretty good but akin to most VIA motherboard, this board didn' allow specifying the AGP/PCI clock speed. Therefore, selecting FSBs outside that default 100/133/166/200MHz would most likely result in an out of spec PCI/AGP bus speeds. Overclockers are advised to take note of the default divider options used automatically by the chipset and pre-calculate the AGP/PCI bus speeds to determine the safe region of overclocking. Our testing revealed a maximum stable overclock of 210MHz, which is more or less similar to what we obtained from the latest crop of Socket-A motherboards.
Before we end our Features section, we would like to mention that this board ships with MSI™'s Super Pack Software that consists of the following:
Adobe Photoshop Album
Media Dialer
FarStone Virtual Drive
InterVideo WinDVD
InterVideo WinRip
FarStone RestoreIt!
Conclusion
MSI™ KT600 motherboard offers even more features. Here's a summary of what it offers:
BroadCom BCM5788 Gigabit LAN.
Eight USB 2.0 Ports
Three-port Firewire bracket (VIA VT6306)
D-Bracket for diagnostics and USB ports
S-Bracket for analog surround and S/PDIF outputs
Promise PDC20378 full SATA / ATA-133 RAID controller (RAID 0, 1, 0+1) on dual SATA and dual PATA drives.
Two more SATA drives supported natively by the Southbridge and with V-RAID.
MSI™ CoreCell Technology (the only MSI™ Socket-A motherboard to have it)
MSI™ Super Pack Software
Due to the more economically priced chipset solution from VIA (since they are less complex), KT600 motherboards are generally more competitively priced than an identically featured board on the NVIDIA platform. Using this advantage, MSI™ has packed in much more powerful features and rivaled their own top-end nForce2 Ultra 400 motherboards. Not everyone benefits from every ounce of performance since many a-time, such differences cannot be quantified nor felt unless benchmarked. This is where the VIA KT600 platform offers an edge over the NVIDIA nForce2 Ultra 400 with decent performance coupled with better price or features. It's a good tradeoff especially if you are not a serious gamer looking for maximum results.
Overall, if you are looking for a feature packed Socket-A motherboard but at a more affordable price point than the nForce2 Ultra 400 and aren't really picky on performance, the MSI™ KT6 Delta-FIS2R is worth considering. The MSI KT6 Delta-FIS2R sounds a tad pricey. As mentioned much earlier, it costs just as much as MSI's top nForce2 Ultra 400 offering, but it offers more features - which really justify its extra cost.
Having said that, we are giving the MSI™ KT6 Delta-FIS2R our 4 star award for a well-rounded KT600 motherboard. It might have fared even better had its performance been beefed up for FSB333-DDR333 operation and the CPU multiplier problem fixed, but 4 stars is still a pretty good rating for all the other enticing attributes found on this board.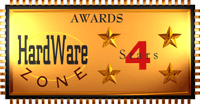 Source from HardwareZone.com
(http://www.hardwarezone.com/articles/
articles.hwz?cid=6&aid=871&page=1)