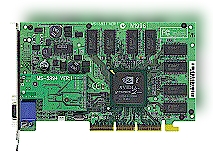 MSI™, a professional manufacturer of motherboards, VGA cards, and multimedia peripherals, today announced the new StarForce 831 graphic accelerator based on nVIDIA®'s GeForce2 PRO™ graphics processor. If you play computer games, you must get the bleeding-edge graphics technology on your PC with the new StarForce 831 graphics accelerator.
Delivering over 25 million triangles per second, the GeForce2 PRO™ blazes through games and applications and gives you an unprecedented visual experience, thanks to features like transform and lighting, per-pixel shading, and advanced video processing. First introduced in GeForce2 PRO™, the NVIDIA® Shading Rasterizer™ (NSR) makes realistic material properties possible through per-pixel shading effects. Now with all NVIDIA second generation GPUs high-quality, dynamic per-pixel shading is possible.
The NVIDIA® Shading Rasterizer (NSR) combined with the blazing fill rate of an nVIDIAR GPU, delivers incomparable resolution and accuracy. Complex scenes are now rich with detail. The StarForce 831 supports 350MHz RAMDAC and can have the highest screen resolution 2048*1024 under 75MHz refresh rate.
Following are some of the main features of the powerful StarForce 831:
Graphic Architecture 256-bit engine

Processor speed 200MHz
Memory Bus 64MB DDR SDRAM, the fastest in the world
400 MHz effective memory cycle
Bus-System AGP 4X

Texel rate 1.6GB/Second

Triangle Rate 25M/Second

Operating Systems Supports WindowsR 9X, 2000, Me, and NT.
On top of its pure performance and breathtaking speed, MSI™'s StarForce 831 graphics card also includes the MSI? 3D TooL software, adding more features to the already powerful card. The software includes:

1. MSI™ DVD: MSI™ provides this unique and customized DVD playback software, ensuring easy DVD application as well as allowing the users to enjoy DVD movie playbacks.
2. MSI™ 3D!Turbo™ 2001:


Screen: This function provides a powerful and user-friendly interface, and automatically detects DDC2B supported video mode. Its protection feature allows the current setting to return to the previous one if not functioning in 10 seconds.
Overclocking: The "Control" function allows users to adjust memory frequency, meeting the demand for higher working frequency environment.
Multi-desktop: The eight desktop selections allow users to group icons of similar function workgroups together, simplifying desktop management.
Would you like to learn more about our new StarForce 831™ Please visit our website () for more information.