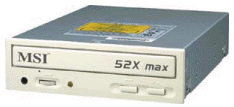 In response of "Information" era in nowadays, MSI™ proudly announces StarSpeed MS-8152 for 52X CD ROM. MSI™'s StarSpeed MS-8152 is based on front-loading tray mechanism, front panel headphone jack, busy indicator, close/eject buttons, volume control and emergency CD rejection hole.
The internal design of CD-ROM has digital & analog audio extraction, master/slave select jumper, 40-pin IDE interface, DC input interface. StarSpeed MS-8152 can read 12cm & 8cm CD, data transfer rate is 7800kb per second, and average access rate is 97 ms. It is one of the most stable product as compared to current existing products on the market.
StarSpeed MS-8152 is based on E-IDE/ATAP interface, which can support many different disk format, for example, CD-ROM, CD-RW, CD-DA(Audio CD), CD-Movie(Video CDv1.0/1.1/2.0), CD-ROM/XA, CD-R(CD-WO), Bootable CD, CD-I/FMV(CD-Interactive), Single/Multi-Session Photo CD, CD-Plus(CD-Extra, Enhanced CD, I-Trax CD). The most worth mentioning feature is its data transfer ability, which provides flexible adjustment to best suits user's needs.
In addition, one of the main features for StarSpeed MS-8152 is Speed Adjustment Function. Because of this feature, it allows user to easy access to the designated data by pressing play/forward button without damage CD and CD-ROM's life cycle. It also can lowers down the noise when it is in operating mode, which provides noiseless working environment for user.
CD-ROM is one of the key storage components for PC, workstation, and server. Its ability of performing good or bad does create great impact towards information storage and speed. MSI™'s StarSpeed MS-8152 strongly emphasizing in product's easy operation and flexibility, which maximize top quality and efficiency. For details of StarSpeedMS-8152, please visit: