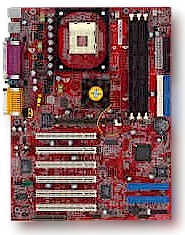 During a keynote at Computex Taiwan 2001, Intel® Corporation demonstrated for the first time its upcoming Intel® 845 chipset for Pentium® 4 processor based-platforms. The Intel® 845 chipset is a flexible chipset designed to take advantage of existing platform technologies (PC133 SDRAM, AGP4x) with the Pentium® 4 processor. MSI™ today announced our new motherboard-MSI™ 845 Pro2-R, based on the IntelR 845 chipset. The 845 Pro2-R is built on red PCB and equips with many unique features exclusively from MSI™. For those who always want the best, you must own this board.
MSI™'s 845 Pro2-R motherboard conforms to the ATX form factor and is fully capable of delivering the high frequency and excellent performance of the Pentium® 4 processor. The 845 Pro2-R applies the new Socket 478 specification from Intel®. The Socket 478 architecture is developed by Intel® to further enhance functions and features on top of the previous Socket 423 architecture. With support for Intel® socket 478 Pentium® 4 processor 2.0GHz and faster, the 845 Pro2-R offers unprecedented advantages in graphics performance and I/O transfers.

Expansion slots are available for 6x PCI, 1x CNR, and 1 AGP 4x Port. 3 DIMM slots support up to 3GB of system memory, enabling higher bus speed, bandwidth and system performance. With support for features such as the Suspend to RAM/Disk, D-LED™, Live-BIOS™/ Live Driver™ and the newest Smart Key™ hardware device, the 845 Pro2-R provides a complete solution for system manageability.
Smart Key™
Smart Key? is an USB hardware device, which protects your personal computer from illegal users and provides you a low-cost solution for your PC to become Security PC. With this "key", no one can access your computer and spy on your personal documents. From now on, you do not have to remember those long passwords, just use the key instead.
Supports IDE RAID 0/1 (Optional)
As a hard drive matrix, RAID enables users to integrate several hard drives to form a unit hard drive at a larger size, aiming to provide error correction (error tolerance) of system data and to enhance system operation. RAID 1 is for data mirroring or data deposit, it enables error correction of system data. While RAID 0 is for stripping, its fast access enhances system operation efficiency extensively.
Supports Live Driver™
MSI™ Live Driver™ is a useful and powerful application for you to download and update the device drivers automatically. You do not have to spend much time in searching the whole website to find the drivers you need.
D-Bracket™
D-Bracket™ is a new innovation based on the D-LED™ feature. It helps the user diagnose computer hardware problems from outside of the computer chassis, eliminating the trouble of having to open up the chassis every time. The D-Bracket™ also has a combination of 4 LED light signals that are either green or red, representing 16 different troubleshooting functions during boot up.
Supports Fuzzy Logic™3
A smart automatic overclocking tool exclusively available from MSI™, Fuzzy Logic™3 automatically adjusts the CPU to its best condition in real time under the OS to accomplish the overclocking function with AI. While system hanging is a common experience in overclocking, Fuzzy Logic™3 will detect the problem and automatically restart the system, making the system always run at its best.
Live BIOS™
A useful software tool from MSI™, Live BIOS™ examines the BIOS version automatically with the latest version available on the web, links to the site for users to download the latest version of BIOS and updates the BIOS. With an "automatic and user-friendly" interface, Live BIOS™ allows BIOS download and update to be completed under the OS easily.
D-LED™
D-LED™ has a combination of 4 LED light signals to represent 16 different troubleshooting functions during boot up, allowing users to find the cause of any possible failure quickly and easily.
For more information about our new 845 Pro2-R, please visit MSI™'s website at http:// www.msi.com.tw