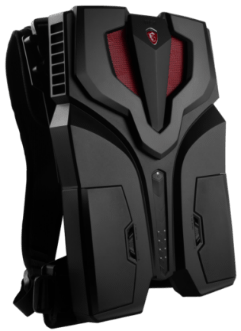 [MSI, HQ] MSI, a world leader in gaming hardware, won the awards of TAIWAN ESPORT TOP GEAR AWARDS (ETG) after rigorous evaluations by a total of 60 students from 25 schools and gaming communities. MSI GT83VR Titan SLI gaming laptop, MSI Aegis Ti gaming desktop and MSI DS200 gaming mouse stood out from five gaming categories; in addition, the MSI VR One backpack PC was also the winner of the Innovative Application Special Award. "We are very pleased to see that our government is actively in promoting those corporations which have great contributions in innovation and design to gaming industry. These praise from the officials and young gaming generations are the best encouragement and recognition to MSI ", said Sam Chern, director of MSI global marketing.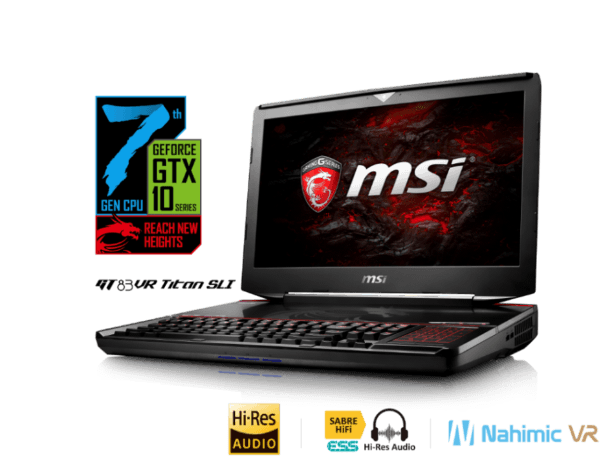 MSI VR One Backpack PC: Breaks through the Limits, Leads to the VR Future
Recognized under "Tech For a Better World", and "Gaming" categories, MSI's VR One backpack PC is the world's thinnest and lightest virtual reality backpack PC weighing only 3.6Kg (7.9 lbs.). Powered by the latest in gaming technology and a unique cooling system to prolong gaming sessions, the VR One backpack PC comes with swappable batteries, eliminate cables and chords, and is now available to deliver a truly wireless VR experience.
MSI GT83VR Titan SLI Gaming Laptop : Dominates the Gaming with Performance, Resolution and Multimedia
With the Intel® 7th generation CPU and dual NVIDIA® GeForce® GTX1080 gaming graphics cards, the MSI GT83VR Titan SLI gaming laptop unleashes the equal performance to the high-end desktop but better mobility, delivering the faster and smoother VR experience to all gamers. MSI also enhances the audio experience with ESS SABRE HiFi thecnology which has just passed the certification from Hi-Res Audio. Now, MSI GT83VR Titan SLI gaming laptop is ready to support the finest audio quality through SABRE HiFi DAC to your high-end headsets. MSI does not merely focus on gaming but also VR. The world's first Nahimic VR with 7.1 sound is now provided exclusively to some MSI gaming laptops, driving the audio more advanced to VR.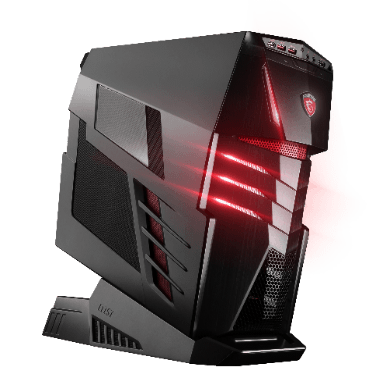 MSI Aegis Ti: Supreme Gaming Power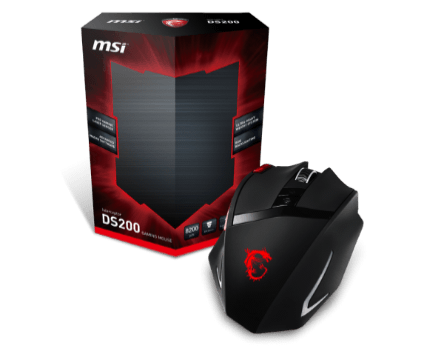 This is the supreme gaming force! This is MSI Aegis Ti gaming desktop! Built for extreme gamers who want max performance and power, the Aegis Ti gaming desktop uses the powerful Intel® 7th generation CPU to give gamers ultimate overclocking capabilities. On top of that, the Aegis Ti gaming desktop houses two hottest MSI GeForce® GTX1080 graphics cards to deliver serious graphics firepower. With this 2-way SLI setup, it can double the GPU power for more details and support gamers with the best possible graphical performance for a 4K or best VR gaming experience.
MSI DS200 Gaming Mouse: The Indispensable High-end Gaming Partner
The MSI DS200 gaming mouse's unique ergonomic design maximizes wrist comfort while hours gaming. As well as its non-slip coating to best control over the mouse. The 9 programmable buttons for multi-function settings and macro recordings bring gamers easier and more convenient controls in various games. Up to 5 groups of profiles rather than 4-profile mice else on the market, the MSI DS200 gaming mouse is available for recording 5 macros for different kinds of games. With the profile switch button on the bottom, it looks more compact and refined. There is a 5-level DPI adjustment button, ranging from 50 to 16,400 DPI, for gamers to adjust the mouse sensitivity according to different game rhymes. Moreover, the weight system on the mouse bottom allows gamer to customize the sense of handling by changing the eight 2.4 gram weights, meeting every gamer's need.
MSI GAMING Products:
https://www.msi.com/
MSI Facebook:
https://www.facebook.com/MSIHQFANCLUB
MSI Twitter:
https://twitter.com/msitweets