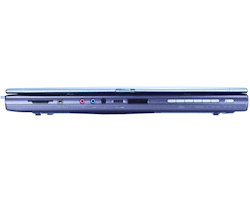 Following the successful debut of the MEGABOOK M510, MSI's first notebook product in Q2 2004, MSI today is excited to launch the new MEGABOOK L610, which is centered on video and audio entertainment. The L610 is loaded with all the features you'll ever want! It brings you enjoyment, style, power, performance, and most of all speed.

To provide just the perfect sound performance, MSI has integrated high fidelity sub-woofer system with the MEGABOOK L610. Enjoy impressively rich stereo sound on your L610 with 2 watts dynamic speakers, built-in sub-woofer, and SRS surround sound system. The L610 also supports 5.1 channel SPDIF output, so that you can enjoy a theater-like surround sound environment at home.
In addition to its excellent audio performance, the MEGABOOK L610 is designed to give you a stunning 15.4" wide screen display monitor with 200 nits power, which offers exceptional clarity and outstanding durability. You can totally enjoy your DVD movies like you've never done before!

The MEGABOOK L610 is not only a notebook but also a digital music player and multimedia center. You can enjoy listening to your favorite music even when the notebook is not turned on. Simply press the button on the front panel to play some music. The L610 is also equipped with a 4-in-1 card reader (supports MS, MMC, SM and SD card), 4 sets of USB 2.0, 1 set of IEEE 1394 and PCMCIA. You can easily link any digital equipment such as DV, Digital Camera, and Thumb Drive to your L610 anytime you want..

The magnesium alloy and chassis structure of L610 guarantee top protection and durability compared to other similar devices. With its lightweight design, the L610 is more compact and portable.

The L610I is powered by ATi® Mobility Radeon 9700 M11 with 128MB VRAM dedicated graphics memory to provide your entire multimedia needs. Moreover, the 802.11g Wireless capability lets you surf the internet easily.
This amazing MEGABOOK L610 will be conquering the market in September 2004.
For more information of L610 spec, please click here.