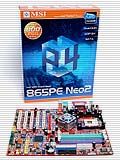 When MSI™ first showed us their 875P Neo, we thought it was one of their best engineered product of all time but little did we know that the 865PE board following that was also designed based on the same philosophy and features. The new MSI™ 865PE Neo2-FIS2R is MSI™'s flagship model for boards based on the mainstream Intel 865PE chipset. We know that the 865PE is basically the same chip as the 875P but with the main performance component known as PAT (Performance Acceleration Technology) disabled.
For those who have caught up with reviews of the 865PE, they would have found out that PAT could be easily enabled by some sort of a cheat method - normally done at the BIOS level. Without going into all the nitty gritty details, we know for sure that PAT can be enabled in the 865PE, and when activated, the board will promise users performance equal to most boards based on the more expensive 875P chipset.
What took us off-guard, although we had the board way before 875P was launched, was MSI™'s hidden feature known as D.O.T. (Dynamic Overclocking Technology) embedded as part of the CoreCell's main technology. The board did perform amicably well in our initial tests and we were surprised that its performance was way beyond the 875P's counterpart. We were skeptical and we went back to testing it again, and again, and again. It was then that MSI revealed to us that their board had this special tweak which made the processor run faster, but because the clock frequency tweak was done at a different level, there was no way the operating system could detect the change in frequency. Needless to say, we were quite unhappy that this was hidden from us. However, we had to fully investigate the board's performance and took our time to obtain results satisfactory to us while good enough for a fair apple-to-apple comparison. As such, it took us many days to get three sets of results, one at normal settings (without PAT and D.O.T.), one with PAT enabled (and without D.O.T.), and one with both D.O.T. and PAT enabled.
In the package, you'll find the following items :-
The MSI™ 865PE Neo2-FIS2R motherboard
Drivers & software CD
MSI™ Super Pack CD
I/O shield
4x Serial ATA cables
1x ATA-133 rounded cable
1x Floppy drive cable
2x dual Molex-Serial ATA power cable
Three-port 1394 FireWire bracket
Two-port USB 2.0 bracket with D-LED
User's manual
Serial ATA RAID manual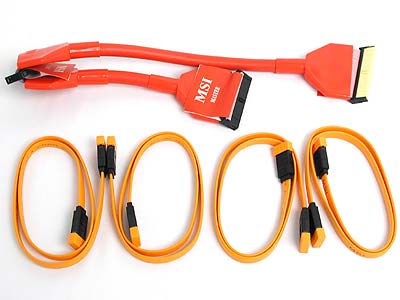 A premium rounded Ultra ATA-133 and four Serial ATA cables are provided in the package.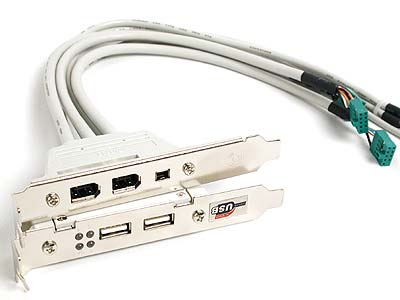 A 2-port USB 2.0 (with D-LED) and a 3-port IEEE 1394 bracket are bundled with the board.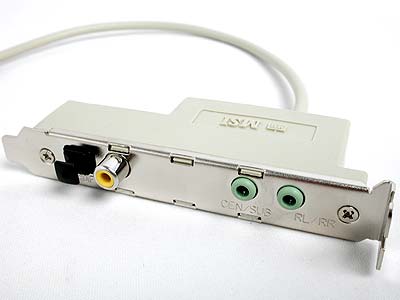 The S-Bracket bundled with the motherboard allows you to add support for rear,
center and subwoofer outputs, in addition to S/PDIF outputs via coaxial or optical.
The Features
In terms of layout and features, the MSI™ 865PE Neo2-FIS2R is very similar to the earlier 875P Neo-FIS2R. The board comes with the usual five PCI slots and support for Serial ATA, RAID, Gigabit LAN and on-board audio.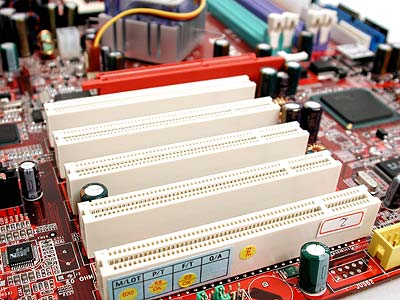 The board comes with five PCI slots - more than enough to meet most expansion needs.
Powering the Gigabit LAN is Intel's 82547EI controller which also takes the advantage of the CSA bus offered by the Intel 865PE chipset. It's the only controller right now that uses the wide 266MB/s proprietary bus and those wanting the best in Gigabit performance should look for this particular component. Other 865PE boards with Broadcom or 3Com solutions would probably not offer the kind of performance seen with the 82547EI.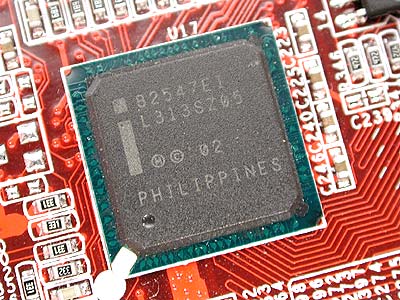 The Intel 82547EI Gigabit Ethernet controller which takes advantage of the 266MB/s CSA bus offered by the 865PE MCH.
Supporting up to 10 storage devices, the MSI™ 865PE Neo2-FIS2R have all the various storage components integrated on-board. Utilizing the Intel ICH5R, the board will come with two Serial ATA ports that allows one the option to set RAID 0 on both the drives installed to these ports. The Intel SoftRAID feature is an added bonus for those who want to push their I/O performance higher and since it's a part of the ICH5R, setting it up would be quite easy. However, if you want to use these two ports together with the two Ultra ATA-100 ports provided by the ICH5R, you'll need to use Microsoft's Windows XP Professional operating system as other older legacy operating systems will not support six storage devices on a single southbridge.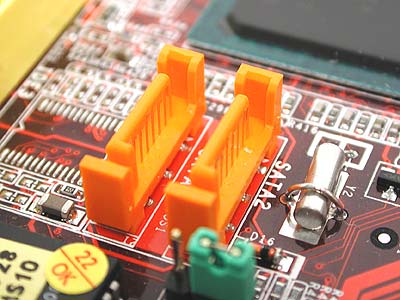 The Serial ATA ports provided by the ICH5R.
In addition to the ICH5R, MSI™ has chosen to use Promise Technology's PDC20378 controller for added RAID support. This particular controller will support both Ultra ATA-133 and Serial ATA interfaces. In addition to that, you are allowed to set RAID 0, 1 or 0+1 on any combination of the devices attached to this FastTrak controller. It's no longer the low-cost 'Lite' controller that allows only RAID 0 or 1. We think this is a big improvement over most of their previous motherboard models.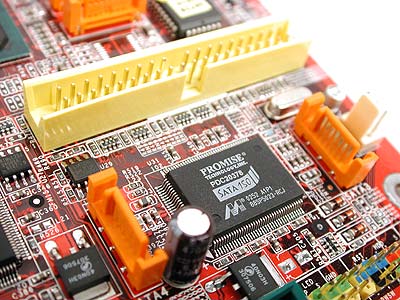 The Promise PDC20378 controller allows one to set their storage devices into either RAID 0, 1 or 0+1 configuration.
Digital video enthusiasts will find the integrated VIA VT6306 FireWire controller very useful. There are three headers on the board and you'll need to use the provided bracket to add these ports to the system. On the bracket, MSI™ provided two 6-pin powered connectors along with a mini-DV connector. The mini-DV connector will be extremely useful for those with digital video cameras.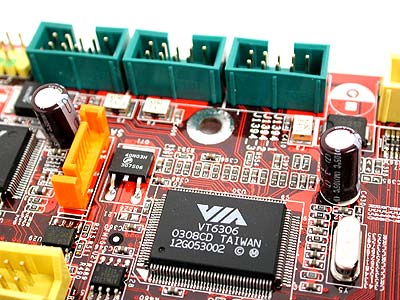 The VIA® VT6306 3-port FireWire controller. The three 1394 headers (in green) are located just beside the controller.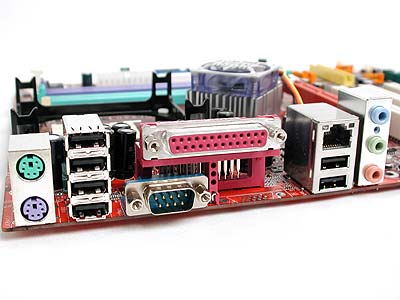 The rear ATX I/O panel.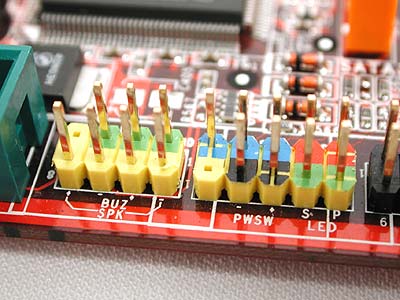 Colored front panel headers make it extremely easy for system integrators.
D.O.T., PAT and Overclocking
Similar to the MSI™ 875P Neo-FIS2R, the MSI™ 865PE Neo2-FIS2R will also feature MSI™'s much talked about CoreCell technology. The CoreCell technology is MSI™'s latest effort in integrating smart voltage, temperature and noise control which when enabled, can significantly help to make your system run faster, quieter and cooler. We have discussed much about MSI™'s CoreCell technology in the previous 875P Neo-FIS2R article and we will not repeat it in this article. For more information, please refer to the article here.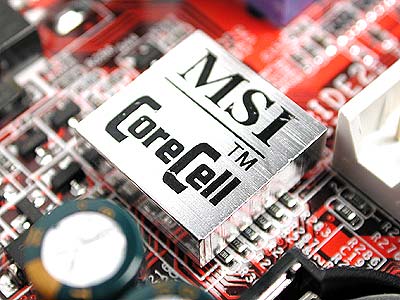 The CoreCell chip responsible for all of its unique voltage and overclocking features.
In addition to CoreCell, MSI™ has also added something which they call D.O.T., or better known as Dynamic Overclocking Technology. With D.O.T., the performance of the system can be further boosted by as much as 10%. All the user need to do is enable the option in the BIOS and overclocking of their processor's frequency will then take place dynamically and automatically within the processor subsystem. The frequency of the processor under D.O.T. is dynamic, and it changes according to the system load. Thus, measuring the processor frequency with D.O.T. activated is almost close to impossible as the system has to be loaded quite heavily before D.O.T. begins to kick in. Also, MSI™ implemented the D.O.T. feature in such a unique way that it's not possible to measure the processor's real frequency by normal methods.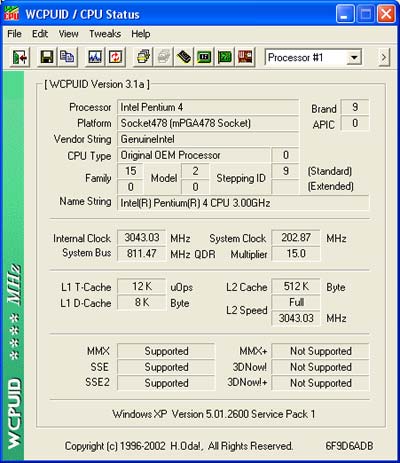 The default FSB as measured using WCPUID. Note that even when DOT is enabled, you can't tell if the FSB is overclocked.
There are a couple of settings to D.O.T. and it can also be disabled if the user do not want to risk any instability to the system due to overclocking. Interestingly, MSI™ set several levels at which D.O.T. could be set and each of these levels are tied to the army ranking. Needless to say that if you're just a Private (or rookie), your D.O.T. setting would also be the lowest (or lamest) of them all. The following will give you an idea of all the D.O.T. levels available.
General: Maximum Level (10%)
Colonel: High Level (7%)
Captain: Average Level - default (5%)
Sergeant: Low level (3%)
Private: Minimum Level (1%)
Note that when enabling D.O.T., it is very important that you're using the best components. The most critical component would be the memory as D.O.T. will not only increase the bus speed of your processor, but also increases the speed at which your memory communicates with the MCH too. So if you're using an 800MHz FSB processor and if you have D.O.T. set as General (10%), your DDR400 memory will also operate at 440MHz.
Well, that's not all of the tweaking you can do here. There's also one other option known as Performance Mode which will allow you to enable the PAT (Performance Acceleration Technology) mode. Although we all know very well that the Intel 865PE does not support PAT, we also know that both the 875P and 865PE are from the same wafer and design. The 875P are just faster chips which meet the strict timing standards set by Intel. But we all know that Intel's yields have always been outstanding and it's not surprising that their 865PE chips are capable of PAT. Thus, manufacturers have begun 'cheating' the chipset and forcing the PAT mode. Of course, due to product marketing reasons, manufacturers have to use other names instead of PAT. Thus, PAT can be enabled with the MSI 865PE Neo2-FIS2R and all you need to do is set the Performance Mode option to Turbo or Ultra-Turbo. Anything lower than these would disable the PAT mode.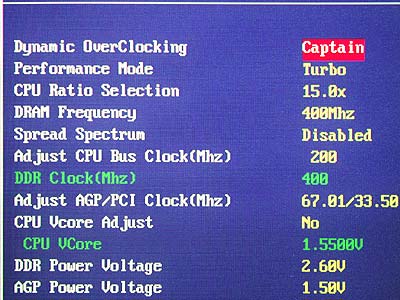 New BIOS features which let you enable DOT and PAT.
For overclockers, the current Neo series from MSI™ is probably the best in terms of options. Nothing can compare with their wide range of voltage and frequency tweaks given for the hardcore overclocker. This is something that MSI™ has done very well in the past couple of months and we hope they will continue to lead the industry with more innovative overclocking features. The options available are :-
System bus settings :- 100Mhz to 500MHz (in 1MHz steps)
DRAM speed settings :- 266, 333, 400, 500, 532MHz
PCI / AGP speed settings :- 33.33/66.66MHz to 75.5/151MHz
CPU core voltage settings :- 1.550V to 1.5850V (in 0.0125V steps), 1.6V to 2.3V (in 0.1V steps)
DDR voltage settings :- 2.50V to 3.30V (in 0.05V steps)
AGP voltage settings :- 1.5V to 2.2V (in 0.1V steps)
In terms of overclockability, the board has the ability to hit up to 300MHz (1.2GHz FSB) if you're using the right pair of memory. In our initial tests, our Kingston DDR400 (with Winbond CH5 chips) failed to even go further than 260MHz. However, when we replaced it with a Corsair TwinX DDR400 memory module, the overclockability of the board got better and we managed to hit 300MHz (1.2GHz FSB) quite easily.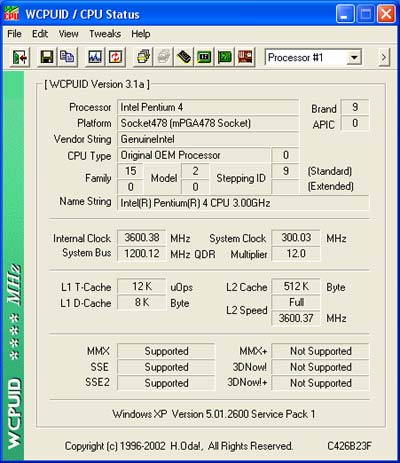 We managed to hit 1.2GHz FSB with the 865PE Neo2-FIS2R motherboard - this is a real super overclocker!
Test Setup
For more information about test setup, please refer to Hardwarezone.com at http://www.hardwarezone.com/articles/articles.hwz?cid=6&aid=795&page=4

Conclusion
The new MSI™ 865PE Neo2-FIS2R is a wonderfully engineered board with very well-rounded feature sets. The board comes with support for FireWire, Gigabit LAN, RAID, Serial ATA and good overclocking tweaks. If you want a board with everything in it, the MSI 865PE Neo2-FIS2R is probably a board which you should consider given its attractive integrated features.
In terms of performance, there's nothing else we need to say but a big "Well Done!" to MSI™. We were totally impressed and it seems that all their hard work in optimizing the BIOS did finally pay off. The performance of the board was extremely good and in certain cases, it even managed to beat the more expensive Intel 875P. The 865PE Neo2-FIS2R is an ideal board for all usage conditions, whether it's for high-performance workstations or for your ultimate gaming rig, we believe the board will faithfully perform with great speed and stability.
For overclockers, the MSI™ 865PE Neo2-FIS2R is yet another dream come true. MSI™ showed us what they could achieve with the CoreCell technology in their earlier 875P model. Now, they came back with yet another shocker known as D.O.T. Although others claimed that they have implemented dynamic overclocking in their boards long before MSI™, it was more of MSI™'s introduction of this technology that made the board more exciting for beginners. Although hardcore overclockers would prefer to tweak their overclocking parameters manually, D.O.T. offers a quick, smart and automatic overclocking option for beginners and newbies. Given the right hardware, beginners can probably achieve very good performance and stability by enabling the D.O.T. option in the 865PE Neo2-FIS2R.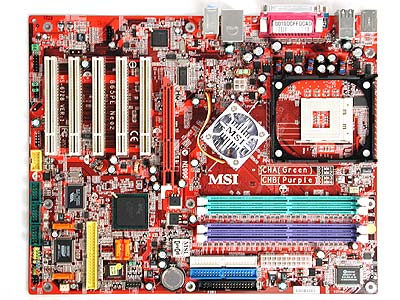 The MSI™ 865PE Neo2-FIS2R motherboard.
Overall, we were very impressed with the MSI™ 865PE Neo2-FIS2R. Performance was great, stability was good while features were very well-rounded. Overclockers would probably want to get this board for its overclocking features while beginners getting this board will benefit with its innovative D.O.T. feature. The good thing about this S$349 board is that it caters to users of all groups, from beginners to power users and from professionals to hardcore gamers. It's with this raison d'etre that the 865PE Neo2-FIS2R truly deserves the same amount of accolades as their earlier 875P model.