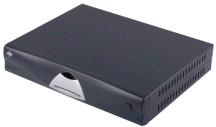 "All information is one touch away." This is highly expected demand to be satisfied. MSI showed its innovative R&D capability by releasing the Set-Top Box (STB), MS-5205. It's a powerful and easy-to-use internet tool with integrated E-mail application. MS-5205 STB is connected to the Internet through any telephone line, and enclosed audio and video cables can be easily connected to your TV within seconds. Using the TV screen as a monitor and the wireless keyboard as an input device, MS-5205 STB provides you the access to Internet's ever expanding range of information resources and services.
Eventually the MS-5205 Set-Top Box is to offer a low cost Internet surfing tool that everyone can afford, user-friendly operation menu that everyone can easily learn, and compact size design for space-saving. The goal of designing this product is to provide consumers simple Internet surfing tool and easy-to-use functions through their existing TV set and telephone line. These product features fit into perfectly what customers are asking now:
TV-Out supporting NTSC or PAL system
Stereo Audio quality
Parallel port Smart Card interface (Optional)
Supports Consumer IR on front panel for wireless keyboard
Simultaneous TV & monitor display
From the expansion slot, you can choose modems ranging from 56Kbps modem, or even higher speed, like xDSL or cable modem, with the speed and brand you prefer. This advantage brings you variety choices for selecting the communication method whichever is available in the place you live. With the Smart Card slot, it provides individual users.