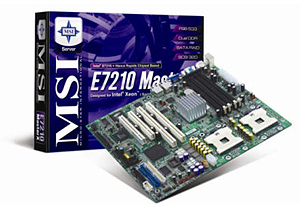 MSI™, the top motherboard and server solution provider, today launches the World's Most Cost Effective Dual Intel® Xeon™ Server platforms- the E7210 MasterX motherboard and X2-101 1U Rack-Mount Server based on Intel® latest chipset. The new platforms bring users a high-performance solution with minimal impact to their budget.
The E7210 MasterX is positioned as a cost effective entry-level ATX form factor server motherboard that supports Dual Socket 604 Intel® Xeon™ processors and takes advantage of their Hyper-Threading technology. The board is specifically designed to fit in both tower and rack-mount servers. In terms of memory support, the E7210 Master comes with 4 DDR DIMM slots, which support Dual-channel non-registered DDR266/333 memory. This allows for up to 4GB of system memory, enabling higher bus speed, bandwidth and system performance. In addition, the integrated ATI Rage XL graphics controller (8MB) fills the need for high-quality video performance and eliminates the need for a PCI video card. With the design of 2 PCI-X and 2 32-bit PCI slots, the E7210 MasterX provides sufficient flexibility and scalability for add-on devices.
For a fast networking connection, the E7210 MasterX boasts the powerful onboard Dual Gigabit Ethernet based on the Intel® 82547 and 82541 chipsets. This reduces the network bottleneck and improves speed and performance. With the transmission of one billion individual bits of information per second, the controller represents the perfect choice for those who want superior performance for robust and demanding applications such as image processing, multimedia and telecommunications.
The E7210 MasterX provides up to 6 ports of Serial ATA interface and RAID 0,1 and 0+1functions with support from optional Silicon® Image chipset. It not only offers higher speed of data transmission, but also better data protection. In addition, for users who require advanced performance, the E7210 MasterX offers an option of Single Channel Ultra 320 SCSI interface together with RAID 0 and 1 functions to satisfy their stronger demands.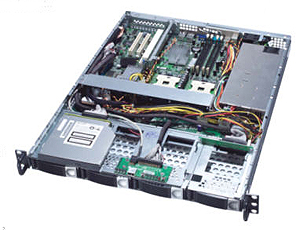 The high-performance 1U rack-mount server solution:
MSI X2-101--- Dual Xeon 1U Rack-Mount Server (MS-9256)
The X2-101 is a 1U rack-mount server barebone which is built with the E7210 MasterX motherboard and 400W power supply. It is developed to be used as workgroup server -- for filing, printing, and network sharing, as well as NAS-applicable Storage Server. This 1U rack-mount system has options to support either 4 external SCSI/Serial ATA Hard Disks with hot swap functions or 2 swappable external Serial ATA Hard Disks, which offers great alternatives to fit every user's different demand. Moreover, the X2-101 also provides high-speed data transmission. It also features the high-end SCSI interface and supports unbuffered DRAM. Therefore, the X2-101 reaches a perfect balance of high performance and cost-effectiveness.
As a whole, the E7210 MasterX and the X2-101 are designed to deliver maximized system bus, memory, and I/O bandwidth to enhance performance, scalability, and end-user productivity while providing a smooth transition to the next-generation server technologies.
MSI products lead the industry in terms of system performance, computing density, price-to-performance ratio, and high-availability requirements. MSI's strong engineering team and technologically innovative leadership both support its commitment to being first to the market with cutting edge technology.
For more product specifications of E7201 MasterX and X2-101, please visit MSI's website at www.msi.com.tw