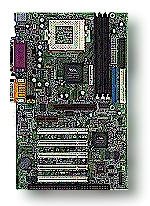 Well known for providing high quality products to PC users, MSI™ today unveiled the new MSI™ 694T Pro motherboard. Based on the VIA® 694T chipset, the MSI™ 694T Pro has basic Socket 370 CPU support, which includes the Intel® Celeron™/ Pentium™ III(FC-PGA/FC-PGA2) and VIA® C3 Processors. In terms of expansion slots, the MSI™ 694T Pro's 5 PCI/1 AGP/1 ISA expansion slot design should appeal to most users. When it comes to memory upgrades, the MSI™ 694T Pro supports three 168-pin SDRAM DIMM up to a maximum configuration of 1.5 GB.

MSI™ always has products of the highest quality and the 694T Pro is no exception. On top of its excellent performance and stability, the 694T Pro also brings the following features:

Supports PC2PC
By using one USB cable and the software included with the 694T Pro, users can easily conduct data transfer, Internet access, peripheral sharing, and on-line gaming.

Supports Live Driver™
The Live Driver™ is the latest innovation from MSI™. The software program is developed with users' convenience in mind. It allows end users to automatically download and install the latest drivers for their motherboards from MSI™ website.
Fuzzy Logic™ 3
A smart automatic overclocking tool exclusively from MSI™, Fuzzy Logic?™3 automatically adjusts the CPU to its best condition in real time under the OS to accomplish the overclocking function with AI. While system hanging is a common experience in overclocking, Fuzzy Logic™3 will detect the problem and automatically restart the system, making the system always run at its best.
Live BIOS™
An useful software tool from MSI™, Live BIOS™ examines the BIOS version automatically with the latest version available on the web, links to the site for users to download the latest version of BIOS and updates the BIOS. With an "automatic and user-friendly" interface, Live BIOS™ allows BIOS download and update to be completed under the OS easily.

D-LED™
D-LED™ has a combination of 4 LED light signals to represent 16 different troubleshooting functions during boot up, allowing users to find the cause of any possible system failure quickly and easily.

PC Alert™ III
This useful software detects system temperature, the status of voltage, fans and all other key components onboard. If any problem occurs, it will alert the user to correct the problem, reducing the risk of system damage.

Supports 3D PCI Audio; offers cost effective sound

Supports Ultra ATA100
The Ultra ATA100 accelerates data transfer speed and provides excellent and faster connection for IDE devices.

STR(Suspend to RAM)
With STR function, system configuration data is saved onto the system memory when the system is set into suspend mode. The system memory is sustained with minimum electrical power to avoid data loss. When the system is reset back to full operation mode, the original configuration status is restored in just a few seconds.

PC 99 and PCI 2.2 Specification Compliant and Certified
For more information about our new 694T Pro, please visit MSI™'s website ()