Now join us with the latest MSI Gaming weapons to experience the excitement of eSports at TGS 2017 on September 21 - 24, at Booth #7-C03 Hall 7, in Makuhari Messe Japan
[Taipei, Taiwan] TOKYO GAME SHOW 2017 has determined to be held on September 21 to 24 at the Makuhari Messe Convention Center in Chiba Japan, where officials expect an estimated 250,000 visitors from worldwide for a total of 332 exhibitors this year. Meanwhile, the main visualization theme for the TGS 2017 has been set as "Reality Unlocked", a cute girl in pink space suit, which indicates the humankind has successfully achieved the space travel, from an unreality to reality, an impossible to possible, referring to how technology is improving even in games. TOKYO GAME SHOW started in 1996, and celebrated its 20th anniversary last year. This milestone event featured a record numbers of 614 exhibitors and 271,224 visitors.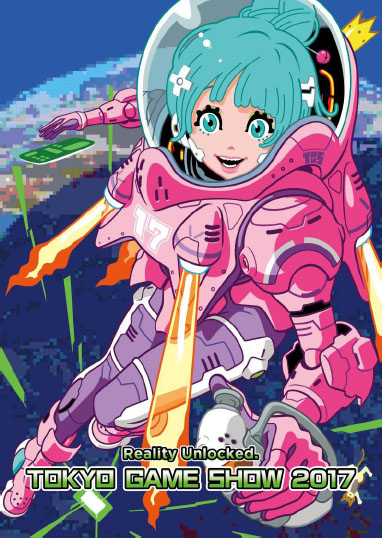 MSI, a world leading gaming brand, will showcase their latest Gaming Series Laptops, Desktops, Motherboards, Graphics Cards, and Gears at TGS 2017 Booth #7-C03 Hall 7. Hard-core PC gamers will have a chance to experience the popular MSI GAMING lineup. "MSI is a true gaming brand, we committed to dedicate to gamer community; we invite all gamers in Tokyo Game Show to experience the latest and most innovative technology at MSI booth!" says Sam Chern, MSI Global Marketing Director. In addition, gamers please note that September 21-22 will be the Business Days, which is restricted to business visitors, and members of the press only. September 23-24 will be the Public Days, which opens for the general public to attend. Welcome all the global gamers to our MSI booth free-to-play areas, and live demo zones, to collect 3 stamps to win yourself a special and mysterious MSI gift!
LAPTOPS
MSI GT75VR - New Design with RGB Mechanical Keyboard, New Era of Ultimate Gaming
The top-tier GT75VR sports Intel® CoreTM i7 7820HK CPU overclockable to over 4GHz with either GeForce® GTX 1080 or GTX 1070. Indulging the concept of near-desktop performing laptop on the go. In addition, this powerhouse features SteelSeries rapid mechanical keyboard with customizable Per-Key RGB backlighting, an ergonomic arrow-shaped palm rest. Moreover, GT75VR laptops sports amazing features and specs like Killer Multi-GIG, High-Res Audio, Nahimic VR, 120Hz display [optional], and Cooler Boost Titan.



MSI GE63/ 73VR Raider - The Game Changer We've Been Waiting For
Inspired by exotic sports cars, the brand new GE63VR/73VR Raider has been given a new facelift. With more angular trims and an aggressive tone, the GE series is a game changer to enthusiastic gaming. Available in 15- and 17-inch, GE63/73 VR Raider takes advange of GeForce® GTX 1070. This new weapon boasts HDR-campatibility, 120Hz panel for spectacular visual experience; along with many other features such as the Per-Key RGB keyboard backlighting, intensive Cooler Boost 5, revolutionary Dynaudio Giant Speakers and Hi-Res Audio and so forth.

DESKTOPS
MSI Trident 3 - Think Small, Play Big
MSI, manufacturer of true gaming hardware, brings Trident 3 to the market, based on the all new Intel® Kaby Lake platform. Already having collected more than 20 media awards in the first weeks after launch, the MSI Trident series is the pinnacle of small form factor, yet high performance PC gaming. Trident series is characterized by an impressive console sized design that fits in any room. Furthermore under the hood, Trident 3 houses a customized GeForce® GTX 10 series GAMING graphics card with performance levels far above its equally sized console counterparts. Whether it is in a VR environment or simply on the couch with friends, gamers are sure to enjoy smooth gameplay with the MSI Trident 3.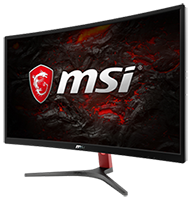 MSI Optix Series - Stay Ahead of the Competition
The MSI Optix series gaming monitor is equipped with a 144hz refresh rate + 1ms response time VA panel which has the most benefit for fast moving games such as first person shooters, fighters, racing, real-time strategy, and sports. These types of games require very fast and precise movements, which an ultra-high refresh rate and fast response time monitor will put you ahead of your competition.

MOTHERBOARDS
MSI GAMING PRO CARBON Series - Game in Style
With unlimited customization options, the new GAMING PRO CARBON design is the world's first motherboard to provide fully exchangeable heatsinks supporting 3D printing, together with customizable RGB LED on heatsinks and Rainbow strips controlled by Mystic Light Extension. Furthermore, X299 GAMING PRO CARBON AC and X399 GAMING PRO CARBON AC are both equipped with MSI PCI-E Steel Armor for the best protection and patented M.2 Shield v2 to avoid thermal throttling. Featuring the world's fastest USB solution ASMedia ASM 3142 USB 3.1 controller also offers you performance enhancement and higher energy efficiency. Other MSI exclusive features such as DDR4 BOOST with Steel Armor, Front USB 3.1 Gen2 Type C, GAME BOOST, and Audio Boost 4 are all included to give gamers the best gaming experiences.
GRAPHICS CARDS
MSI GeForce® GTX 1080 Ti Lightning - The Ultimate PC Gaming Platform
Built to be perfect, the new MSI GeForce® GTX 1080 Ti LIGHTNING combines cutting edge new technology with proven features such as TRI-FROZR design with TORX 2.0 Fans, SuperPipe technology and Military Class 4 components. The GeForce® GTX 1080 Ti LIGHTNING is nothing short of an engineering masterpiece.
GEARS
MSI Clutch GM70/ GM60 - Get a Solid Grip on the Game
With a strong focus on ergonomic design, the Clutch GM70 and Clutch GM60 offer two different pairs of side grips and an extra top cover to allow gamers to find their most comfortable fit. This makes all the difference when you're playing for hours on end and allows gamers to stay at the top of their game. The top cover and side grips can be swapped with ease thanks to a magnetic design. A dragon-scale pattern on the sides provides additional grip, ensuring complete control of the mouse.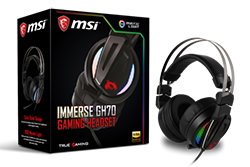 MSI GH70 - Get into the Game
The Immerse GH70 is a gorgeous gaming headset that features driver unit with Hi-Res certification for incredibly detailed sound quality and virtual 7.1 audio for precise positioning. Fitting in seamlessly with the latest MSI high-end gaming products, Mystic Light RGB delivers brilliant lighting effects to let gamers light up the battlefield in the style of their choice.
MSI at TOKYO GAME SHOW 2017
Business Date: September 21 - 22, 2017
Public Date: September 23 - 24, 2017
Venue: Makuhari Messe, Mihama-Ku, Chiba City, Chiba Prefecture, Japan
Booth: #7-C03, Hall 7
MSI TGS Official:
https://jp.msi.com/
MSI Official:
https://www.msi.com/
MSI Facebook:
https://www.facebook.com/MSIHQFANCLUB
MSI Instagram:
https://www.instagram.com/msi_global/
MSI Twitter:
https://twitter.com/msitweets