[Taipei, Taiwan] The time has come once again for the finest products of Taiwan to let their innovative value be seen. The 2017 Taiwan Excellence Award hands out trophies to the best Taiwanese products that demonstrate excellence in R&D, Design, Quality and Marketing, as voted by an expert jury panel. The world's leading gaming brand, MSI shines the brightest among all competitors with an outstanding 95.2% award rate. "It's a tremendous honor for MSI to be once again recognized by the prestigious Taiwan Excellence Award. With 20 products awarded amidst our 21 entries and one of them even nominated for Gold and Silver Awards, we feel very proud and grateful to be part of the forces that drive Taiwan and the gaming industry forward," says Sam Chern, MSI Global Marketing Director.

MSI's beastly gaming laptops and desktops are true game changers packed with power and stunning innovations. Awarded lineup includes GT75VR Titan laptop, GE73VR Raider laptop, GE63VR Raider laptop, Vortex G25 desktop, Trident 3 Arctic desktop and Infinite series desktops. Next winner and the Gold and Silver Awards nominee is the amazing VR One backpack PC that guarantees untethered VR gaming experience. For gamers looking for dominant gaming components and peripherals, the awarded GeForce GTX 1080Ti LIGHTNING Z graphics card, X299 GAMING M7 ACK and X299 XPOWER GAMING AC gaming motherboards as well as Clutch GM70 GAMING mouse, Vigor GK80 GAMING keyboard, Immerse GH70 GAMING headset, GC30 GAMING controller, GUS (Graphics Upgrade System) and Gaming Storage are their top choices. More award winners include Cubi 3 Silent S mini PC, PRO 20EX business All-in-One PC, X1000 IoT gateway and the MS-9A89 fanless Box PC.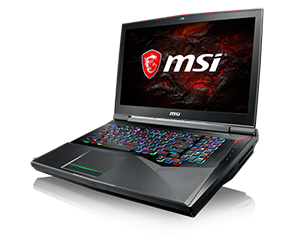 MSI GT75VR Titan Gaming Laptop with New Rapid Mechanical Switch & Per-Key RGB Gaming Keyboard
MSI GT75VR Titan features the 1st ever Rapid Mechanical RGB Keyboard, with tactile feedback of mechanical keyboard but even faster actuation. Gamers can also customize the per-key RGB backlight to their liking. Paired with the fastest 120Hz/3ms gaming display, 10Gb gaming connection, dual graphics in SLI and Cooler Boost Titan, it's truly a desktop-replacement for gamers.
MSI GE73VR/GE63VR Raider: Slim Gaming Laptop with GTX 1070 Graphics and 120Hz/3ms Display
MSI GE73VR/GE63VR Raider takes advantage of GeForce GTX 1070 and boosts OC ability with exclusive Cooler Boost 5. The new weapon boasts its HDR-compatible, 120Hz panel with ultra-fast 3ms response time for spectacular visual experience. It also comes with a variety of features, including a RGB keyboard backlighting on a per-key basis, Dynaudio Giant Speakers and Hi-Res Audio.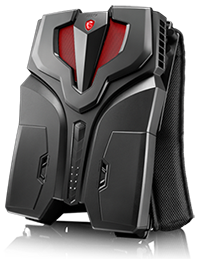 MSI VR One Backpack PC, the Taiwan Excellence Gold and Silver Awards Nominee
MSI reinvented VR backpack PC with the latest VR One. Gamers are no longer tethered by the annoying cables when experiencing VR. VR One features dual hot-swappable battery for unlimited playtime, and is the only VR backpack PC officially approved by NVIDIA.


Ultra Compact MSI Vortex G25 Gaming Desktop
MSI Vortex G25 redefines gaming PCs by breaking the status quo of PCs being either too bulky or lacking performance. With only 2.5L and 2.5kg, it is VR Ready and handles even the most demanding game titles.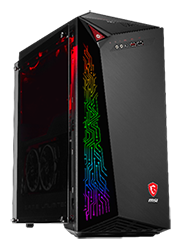 Gaming Never Stops with MSI Infinite Series Gaming Desktops
Inspired by gamers who have a never-ending desire to game and want infinite possibilities to play the way they want, the MSI Infinite series promises the best gaming performance with award winning MSI GAMING graphics card and the latest Intel® Core™ processor. The design of Infinite's case boasts elements of electric circuitry traces on the front side, which can be customized with RGB colors via MSI Mystic Light. It also allows users to upgrade the system with ease, expand their storage and be ready for future games. Coupled with MSI's exclusive Silent Storm Cooling 3, the MSI Infinite series' cooling efficiency is unmatched, making it as quiet as an assassin.

Frosty MSI Trident 3 Arctic Gaming Desktop
With its icy white color, Trident Arctic gives a cool look to every gamer's den. Housing a customized GeForce® GTX 1070 GAMING graphics card and the latest Intel® Kaby Lake processor, Trident 3 Arctic offers greater performance far above its equally sized console counterparts. With its 256GB M.2 PCI-E SSD, Trident 3 Arctic provides blazing fast boot times and game-level loading times. Whether in a VR environment or simply on the couch with friends, gamers are sure to enjoy smooth gameplay with the MSI Trident 3 Arctic.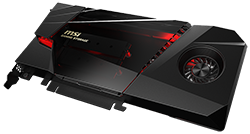 Ultimate High Speed Transfer with MSI Gaming Storage
MSI Gaming Storage is the PCIe x8 interface card which provides 2 additional M.2 slots and builds RAID 0 to deliver up to 7200MB/sec data transmission that is 2.2x faster than generic storage so gamers don't have to waste time waiting for game loading.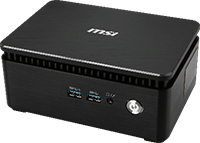 MSI Cubi 3 Silent S Fanless Mini PC
MSI Cubi 3 Silent S offers superior performance in a compact chassis. With an innovative fanless thermal system and a chassis made of aluminum alloy, it supports the latest Intel® Core i7 CPU and 4K UHD high-resolution output to provide powerful performance and the most delicate visual feast to users.
MSI PRO 20EX, Your Ideal Business All-in-One PC
MSI PRO 20EX is an excellent business all-in-one desktop that is crafted with reliable materials to deliver powerful performance for various applications. With its elegant crystal frame, versatile I/O ports and a screen that reduces blue light and flickering for long working periods, the PRO 20EX is a strong performer and an ideal business partner for all kinds of tasks at work.

Enthusiast-class MSI X299 XPOWER GAMING AC Motherboard
MSI X299 XPOWER GAMING AC maximizes performance with all the latest specifications and features. As a high-end gaming motherboard, it uses Ti Choke II for higher efficiency. Power delivery with the DIGITALL power phases helps the motherboard to overclock the CPU and DRAM to a higher level. For high speed M.2 devices, M.2 SHIELD FROZR ensures that SSD always works at maximal speed. STEEL ARMOR contributes to signal enhancement and EMI prevention on DRAM, graphics and U.2 storage. Coupled with AUDIO BOOST 4, Nahimic 2, dual Intel LAN plus an Intel Wireless card, the latest USB 3.1 Gen2, Front USB Type-C, TURBO M.2 and U.2 storage, this motherboard satisfies the need of high-end users.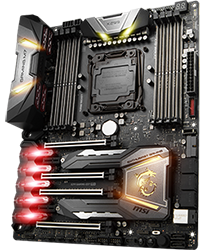 Flawless Supremacy with MSI X299 GAMING M7 ACK Motherboard
Designed for gamers and PC enthusiasts who crave extreme performance, MSI X299 GAMING M7 ACK features new M.2 Shield FROZR that prevents throttling and maintains maximum performance. Audio Boost 4 PRO offers two independent audio processors with dedicated amplifiers for the best sound quality. Killer™ Double Shot PRO allows Killer Ethernet connectors and Killer Wi-Fi adapter to work together for ultimate high-speed gaming network.

MSI GeForce GTX 1080 Ti LIGHTNING Z Graphics Card
Evolving from the Lightning Series and built to be perfect, the MSI GeForce GTX 1080 Ti Lightning Z graphics card combines groundbreaking new technology with proven features such as TriFrozr design with TORX 2.0 Fans, SuperPipe technology, Military Class 4 components and Mystic Light.

MSI Clutch GM70 GAMING Mouse
With a strong focus on ergonomic design, the Clutch GM70 offers two different pairs of side grips and an extra top cover to allow gamers to find their most comfortable fit. The top cover and side grips can be swapped with ease thanks to a magnetic design. A dragon-scale pattern on the sides provides additional grip, ensuring complete control of the mouse.
MSI Vigor GK80 GAMING Keyboard
Built on a tough and durable aluminum frame, the Vigor GK80 provides everything you would expect from a high-end mechanical gaming keyboard. The premium keyboard comes with Cherry MX Switches, RGB Mystic Light, customizable hotkeys as well as additional Gaming-themed key caps.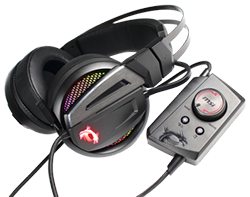 MSI Immerse GH70 GAMING Headset
MSI Immerse GH70 GAMING Headset recognizes the importance of true detailed Hi-Fi sound reproduction in games and features certified Hi-Res drivers with Virtual 7.1 Surround sound. This tough headset is crafted with a stainless steel headband and ear cups that swivel for easy transport or storage. Complementing the classy, yet aggressive design, the Immerse GH70 comes with RGB color effects through MSI Mystic Light Sync.
MSI GC30 GAMING Controller
Compared to other gaming controllers on the market, MSI GC30 possesses excellent quality and friendly ergonomic design to show its outstanding balance. The replaceable d-pad is ideal for gamers who would like to find the best feel in fighting games, RPG games, or FPS games. Also, the GC30 offers gamers a lot of flexibility to choose between wireless or wired modes to suit their gameplay.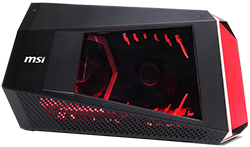 MSI GUS (Graphics Upgrade System)
With a solid look, red-black gaming style and the new generation Type C interface, MSI GUS is an excellent external graphics solution to fulfll professional users' and gamers' needs of high resolution graphics and gorgeous displays. For better thermal effect, one fan is put on the top of chassis to dissipate heat from the graphics card and keep the whole system more stable for long-time use. MSI GUS lets users turbocharge their graphics performance with ease and flexibility no matter what kinds of PCs they have.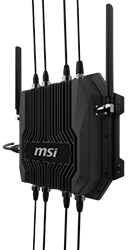 MSI X1000 IoT Gateway
MSI X1000 is a network security gateway with wide temperature and IP68 support. With smart temperature control and fanless thermal solution, it is especially designed for industrial and harsh environment. Featuring robust design, Gigabit Ethernet, Wi-Fi and 3G/LTE network solutions, comprehensive and highly customizable I/O interfaces, the X1000 can be applied in various networking environment with easy operation and high convenience, suitable for industrial applications such as transportation, surveillance and environmental monitoring.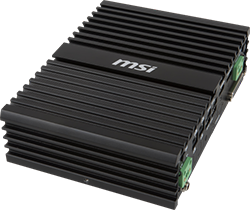 MSI Industrial PC MS-9A89 for High-performance & Low-power Fanless Applications
MSI IPC released MS-9A89, the compact embedded Box PC with Intel® KBL-U or APL-I series processor and ultra low-power fanless design to withstand harsh industrial conditions and provide reliable performance for a wide variety of industrial applications. It supports 3 independent displays, versatile DC input of 12V~24V, 2 Mini-PCIe expansion slots, rich I/O of 4 LAN, 6 USB and 6 COM ports. The APL- I sku is rated to operate under a wide range from -20°C to 70°C. MS-9A89 offers flexibility for machine builders and system integrators to build systems for automation, digital signage, IoT gateway, kiosk, POS, and bus or in-vehicle applications.