News
COMPUTEX d&i Award and Best Choice Category Award Winner: MSI X1000 IoT Gateway
Latest Update: Wed, 24 May 2017
Integrating aesthetics, innovation and functionality, the MSI X1000 IoT Gateway is a double honoree for both COMPUTEX d&i Awards 2017 and Best Choice Category Award. It is very honored to win this award through the first MSI IP68 industrial grade wide-temp gateway. MSI X1000 has a robust and stylish look through its octagonal outlined, matte black chassis which presents its outstanding product Image.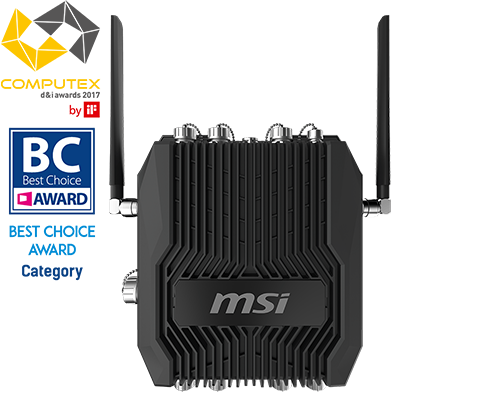 As X1000 is positioned as outdoor gateway, with robust hardware design and selected materials, it can fit well into harsh and changing environment. Besides, in response to the various needs of industrial applications, both common and standard M12 I/O interface are designed in. To make sure the product can operate from minus 40 º c and up to 70 º c, X1000 has innovative smart temperature control solution which can auto-adjust system temperature and has 3-level over-heating protection mechanism according to diverse environments. Last but not least, X1000 can support cable, wireless, Wi-Fi and 4G to have the full coverage of network connection. Users can embrace the era of internet everywhere.
Most of the similar products are limited to IP65 industrial grade while X1000 has higher industrial grade which can meet IP68 criterion. Integrating aesthetics, innovation and functionality, it is no doubt that X1000 is favored by the jury and wins awards. We believe the characteristic of X1000 will open a new chapter in the IoT gateway.