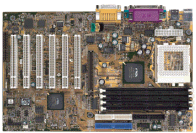 MSI™ today announced their newest Celeron™/Pentium® III Socket 370 motherboard again, the 694 Master, based on the highly integrated VIA® 694X chipset, the ATX form factor motherboard features 4 DIMM socket for up to 2GB of memory. For customers' convenience of expandability, it has 6 PCI and 1 ISA (Shared with PCI slot). The 694 Master motherboard supports the following features.
Fuzzy Logic™ 2
The tool is aimed at all users who enjoy tweaking their systems for maximum performance. Running in the Windows® environment, it utilizes the power of artificial intelligence to automatically and instantly determine the best parameters for the CPU.
Smart D-LED™
The newest super value tool developed by MSI™, it is now in voice mode. Besides the traditional combination of 4 LED light signals to represent 16 different troubleshooting functions during boot up, Smart D-LED™ now literally tells you the status of the boot up process, so that you can easily find the cause of any possible failure.
Live BIOS™
A brand new MSI™'s own developed intelligent tool, the Live BIOS™ is constantly monitoring the BIOS releases from MSI™'s web site, and compares with the one on the motherboard.
Live BIOS™ will automatically download the newest BIOS version and automatically installs after download, ensuring an error free BIOS updating process. Live BIOS™ provides an automatic and user-friendly interface, completing the process of downloading and installing new BIOS versions under Windows® environment.
PC Alert™ III
It detects system configurations including temperature, voltage, fan speed, hard disk drive and memory, and reports the real-time system status to users. When anything abnormal happens, it would alert users to take proper actions to prevent component damage.
Supports IEEE 1394 Optional
Supports IEEE 1394 to meet users' need in higher data transfer rate or wide band devices, such as Digital Video, Media Storage, DVD, scanners, and printers.
Supports Ultra DMA 66
Supports the Ultra DMA 66 (ATA 66), which speeds up the throughput and saves time in document saving and retrieval, resulting in improve overall performance.
Built-in sound capability
Supports software 3D PCI-class sound without the need to purchase a sound card, and conforms to AC'97 standard.
STR (Suspend to RAM)
STR saves the configuration information temporarily in RAM and saves power consumption by cutting unnecessary power during the suspend mode. It allows the PC system to awake within a shorter period of time.
PC 99 and PCI 2.2 Compliant