Hong Kong No.1 Professional Esports Team PandaCute. Hong Kong Girls Champion in 2016 5v5 SunShine Cup and 2017 Shero Hong Kong Competition. Trained in Taiwan Jteam with Jay Chou. Represented Hong Kong to participate EWG Internation Girls Game. 1st Runner-up in Meitz Cup in Gaungzhou, HKXP 《LOL》Girls Champion, Asian League of Legends Women's All-Star Game 4th place, Your Youth Entertainment League of Legends Girls Invitational 2018.
Team members now have Top - Deer, Jungle - Momo, Mid – Dream, ADC – Lily, Support – Laulau, Coach – Kane.
PandaCute was founded by Team Captain Deer Chan back in 2016. Deer wanted to participate in a local internet cafe tournament, so she started to group team members including Dream and Lily, as a result, they became first Hong Kong Champion for Girls. Since then, Deer found herself very passionate in competing in ESports and wanted to further develop herself down this path, so she set up a Facebook page and Instagram for the team, her intention was to raise more attention from the public and esports field and ended-up recruited by the current company Global Esports Limited and became the first professional Girls ESports team in Hong Kong.
They won three Championships in Hong Kong, they were 2017 SHERO League of Legends International Invitational, 2017 Hong Kong XP League of Legends and 2018 Your Youth Girls Invitational, which made them the No.1 Girls ESports team in Hong Kong!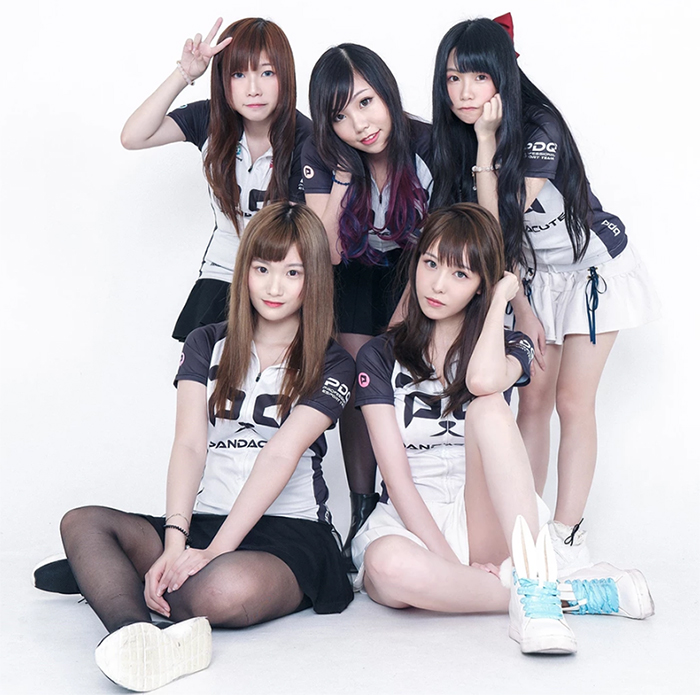 More introduction & photos like below
https://www.pandacute.com/
https://www.facebook.com/PDQesports/